Can a pit bull terrier be in heat at five months old?

By enrico from NY

Answers:
Is My Dog In Heat?
Yes, they can go into heat as early as 4 months. I would suggest getting her spayed right away. (05/16/2009)
By Brooke
Is My Dog In Heat?
Hi there. My brother has a wonderful Pit who is now about 10 months old. At 6 months or so he was humping everything and everyone that stood still. He stopped after a few weeks, and 4 months later he is at it again. He is the sweetest, cutest thing, but I want to give him a cold shower every time I see him. So I don't think it is unusual, but maybe ask a vet, and yes get her fixed. My brother is going to be doing that real soon. (05/16/2009)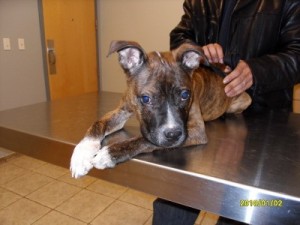 Is My Dog In Heat?
From what little I know about female canines in heat is that they drip blood droplets, so that would be a very good indicator that she's in heat.

I've also heard that, unless you plan to breed, that it's best for their overall health to have the ladies spayed at the youngest age possible. (05/22/2009)

By Deeli
Is My Dog In Heat?
If she is licking her vulva area a lot and/ or it looks enlarged/swollen that is an early sign of being in heat. I think the blood comes later. A male dog will let you know if she is in heat.: ) You will see a lot of them if she is. Don't take your eyes off of her. (05/22/2009)

Is My Dog In Heat?
"taterbugstots" is correct. Dogs come into the first heat at various times and often people are surprised because the rule of thumb is 6 months. They mature at different rates just like people. Dogs are in heat roughly 21 days with the bleeding starting at about 7-8 days. It's cheaper for you to wait until after the heat to spay and is much safer for the dog then too. But please do spay her! (05/22/2009)

By Judi
Is My Dog In Heat?
And my hubby the "dog man" thought 8-1/2 months was too young for our Princess to go into heat, lol! We tried to separate her and her boyfriend, Tigger, for the entire month (mid-April to mid-May 2008) and still almost had pups when hubby tried letting them play together (briefly at the three-week mark). It was either his quick action in separating them (cold water, I think) that prevented pups, or maybe she was a little past the optimum window for pregnancy. Then we had a miserable December keeping them separated all over again.

We learned recently it's going to cost us about $95 to get her spayed ($85 for a coupon from the local Animal Welfare League, $10 more for the vet). We're only praying she doesn't go into heat again before July 10, which is the first appointment of that sort our vet's office has available. (05/23/2009)