Courage is our 2 year old cat. The children were taking orders for cookie dough for a fundraiser and a lady had a yard full of cats. My girls immediately spotted 2 orange and white kittens and packed them around for the whole duration of the visit. One of the cats let them hold him in any postition. When it was time to deliver the cookies, the lady asked in front of the children if they'd like to keep one of the kittens (they picked them up again like the first time and took off from where they left the first visit with the kittens).
That was an easy way to give away a kitten. My husband was in Iraq, the timing of asking was "perfect". I had no choice but say yes to the screaming, happy girls. When my husband called that night the children excitedly told him there is another male in the house now.
After a quiet moment on the other line, my husband softly asked if mom brought a dog in the house without asking dad. The kids breathed easily, "No, dad, it's a kitten". It passed out well, since my husband doesn't particularly care for cats. But he sure likes this one.
He loves hunting. We have 20 acres and every morning we can see him hunting anywhere on the property.
He is the most easy going, loving cat. He has the most patience to let 3 girls put ribbons on his tail and pretend that he is wounded. I think because he gets to stay indoors when they do that to him, otherwise, I don't think he'd be so patient.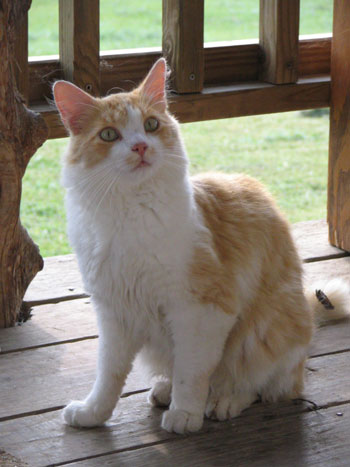 By Natalie Meyer from Columbia, KY