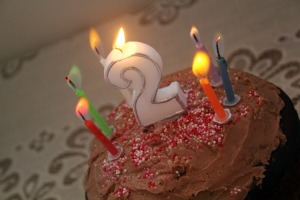 I need ideas for my 2 year old daughter's birthday party in October. I live in Michigan so you never know what the weather will be in October. I can't afford some of these party places that charge a million dollars a kid. Any thoughts are appreciated!
By Evette from Detroit, MI
Answers
August 31, 2010
0

found this helpful
Best Answer
Have a small party at home, just include immediate family(grandparents, the child's aunts and uncles, no cousins, etc., and very close friends.) A child that age doesn't realize they are having a party. Serve cake, ice cream and punch, coffee. I always plan light colored punches and drinks for family get togethers, even though my grandkids are adults and teen, they still get excited sometimes, and can spill things. Red tone drinks can make horrible stains. You don't need a lot of fancy decorations, etc. Just keep it simple.
August 31, 2010
0

found this helpful
Best Answer
Listen to redhatterb. Said just about the same thing I was going to say in regard to the "flamboyance" of the party. The child will never remember it you are basically throwing a party for the adults.
In regard to who attends I would recommend inviting some relatives that would show and immediate friends who have children close to the same age or slightly older. Like from 2 to 5 or 6. Don't invite a lot of them just maybe 3 or for of your closest friends with children. And maybe a few close family friends without children. After all, they may have kids in the future and the friends you have now are part of your future.
September 2, 2010
0

found this helpful
Best Answer
I agree with the other two posts; a two year old child will not fully understand what is going on or remember it years later. A fancy party is more to show off for other adults than for the child. Have a simple party and save your money for when the child is older. Even when mine were older, we chose simpler parties, but they were remembered and loved. Once we rented the city pool, once we went to semi-pro baseball game, played miniature golf, played golf on a full size course, spent the day in the park, sleepovers, etc. Mine enjoyed so much more having a few good friends and doing something they loved, than having a big party and being forced to take pictures and do things rather than just enjoying themselves. Don't allow birthdays to be another source of pressure, for you or your child.
September 2, 2010
0

found this helpful
Best Answer
A birthday party for a 2 year old is not supposed to be a lavish affair. It is for close friends and family. If your child has older cousins or playmates that are 4 or 6, these kids get a kick out of the party. You don't have to have games or anything. A decorated cake and presents and just let the little kids play and the adults visit. That's it for the entertainment.
One of my sons has his birthday on Nov 6, and when he was about 3, I think, we "themed" his party so he could wear his Hallowe'en costume again, he and his brother had been "Batman" so we had a Batman cake and they wore their costumes again.
Answer

this Question