I am giving my daughter a sweet 16 and I am stuck on the menu. The theme will be Tiffany and Co. What are some good food menu items for teens? There will be a candy buffet and cake as well. I don't want to get food that they will pick over. Also, how many menu/food items?
Answers
August 26, 2019
0

found this helpful
It's a great time for a cookout,pizza buffet, Smoking Bar-b-cue!
August 26, 2019
0

found this helpful
Silver dollar pancakes
Yukon Gold potatoes.
Copper coin carrots
Silver tip roast.
You get the idea!
August 26, 2019
0

found this helpful
How many people are invited? The amount of food needed will depend on this.
Definitely keep with the Tiffany theme on all little details. Id go with one or two main food choices and the rest just snacks. Teens love snacking, as do I lol.
You could do the following:
Tiffany Blue skewered rock candy (can order online)
Strawberries dipped in white chocolate (add a light blue food dye to the white chocolate to make them Tiffany blue)
You could also use this blue white chocolate to make dipped pretzels or pretzel sticks, etc.
Blue punch: using 1 part Hawaiian Punch Berry Blue and 1 part Countrytime Lemonade. It tastes just like a jolly rancher :).
Chic fil A chicken nugget platter you can NEVER go wrong with nuggets
*or*
Burger sliders
*or*
A sub/wrap tray from Subway or somewhere similar
A small fruit platter
And then just some chips, and snack items. Maybe a dip (French onion, rotel, Alabama caviar, etc).
If you wanted to splurge, you could get some sugar cookies made with blue icing and your daughters name on them ( ex. Sarah & Co. ). And then a few that resemble Tiffany boxes. Big batches can get very pricey, so you could just spring for a smaller amount.

Also, I think this would be a nice touch to the decor. Buying the plastic silver cutlery and plastic silver platters that look so real from a distance would make it more fancy and definitely more Tiffany & co. You could even order some bags of plastic play diamonds to decorate the table with.
Hope this helps! Let us know how it turns out! Happy Birthday to your daughter!
August 26, 2019
0

found this helpful
sandwiches and chips...even Audrey Hepburn ate them ;-)
Read More Answers
I'm just starting to plan my 16th. It's about two months away in early September. I'ts going to be a superhero and super villain party and I need some really good food ideas. Any advice would be great.
By Kara K
Answers
June 23, 2013
0

found this helpful
Best Answer
- virgin cocktails with names like hulk smash, thor's hammer, and black widow.
- get creative with cheese, grapes, pretzels, and more to make superhero symbol crackers
-order pizzas and ask them to arrange the toppings in superhero/villain symbols
- make rice crispy bites and put flags in them that say "pop" "smash" "crack" and the like.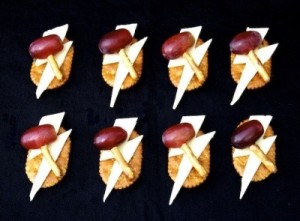 Answer

this Question

...
I am looking for food ideas (other then pizza) for a girls 16th birthday party. It's going to be held at an indoor pool. There will be about 6 to 8 teenagers and some adults. Any ideas on activities would be appreciated too.
Hilda from Hagerstown, MD
Answers
By Becky, Wichita Falls, TX (Guest Post)
November 25, 2008
0

found this helpful
Dipping foods - veggies in cheese, chicken bites in BBQ sauce, fruit in cream cheese sauce, apples in caramel. My daughter loves this kind of stuff.
November 25, 2008
0

found this helpful
A quick, easy, portable food that will feed many is Hamburger Bar-B-Que. (For those that don't know, it is cooked hamburger in a sauce of tomato sauce, brown sugar, spices, served on hamburger rolls, a sandwich). You can make it a day or so ahead. Heat it before leaving home & put it in a crock pot to keep warm at the party. This goes great w/ all sorts of "picnic" side dishes. Another similar idea is pulled pork sandwiches. I'm sure you can find recipes online.
By dsbaby14. (Guest Post)
November 26, 2008
0

found this helpful
Pigs and the blankets and pizza bites are great for kids.
By michelle (Guest Post)
November 28, 2008
0

found this helpful
Make fruit kebabs, you can anything on the kebabs depending how health serious they are. Marshmallows? Are they having a BBQ?
By m (Guest Post)
December 26, 2008
0

found this helpful
What I would do is have a 'theme' for your food at your party it makes it way easier to prepare and organize(ex- for a Hawaiian theme, you can do fruit kabobs or coconut shrimp). If you pick a theme, let us know and I'm sure we can help you with more ideas. Have fun=)) -m
December 31, 2008
0

found this helpful
A Hawaiian theme is great, because so many different types of foods are eaten in Hawaii. When I lived there, the big thing was the pupu (hors d'oeuvre) platter. There would be popcorn shrimp, bacon-wrapped shrimp, or coconut shrimp. There would be a little cracker with a square of cheese and a circle of ham. (This was obviously before I kept kosher.) There would be little prosciutto-wrapped melon, a little teeny piece of shortcake under a dab of whipped cream and a strawberry, a slice of roasted pineapple under a wedge of grilled tuna. There would be taquitos, pizza bites, pan-fried ravioli. There would be flavors of Asia, Mexico, Portugal. There would be little cups or seashells full of poi, a starchy, purple pudding made from taro root, and eaten with the fingers or sipped from the seashells almost like raw oysters (and sometimes raw oysters would be there too). Fried or grilled seafood, fruit, meat, and vegetables were king.
Basically, if it was bite-sized, it was on the platter, right next to everything else, and it was all good. Finger foods are perfect for a pool party because you just reach for the tray, pick something, and then jump back in the pool once you've swallowed.
Of course, if you're looking for a sit-down course, there's always saimin. Long, curly Asian noodles in a broth made from bonito flakes, garnished with a thin wedge of Spam, a circle of fish cake, and a sprinkling of chopped scallions, and sometimes with a bit of boiled egg and/or sliced pork or chicken.
More about saimin:
en.wikipedia.org/.../Saimin
Image of Saimin (the pink and white spiral is the fish cake): www.hawaiimagazine.com/.../Saimin.jpg
Once they've had their saimin, give them something to do for at least twenty minutes, then let them at the pool. They'll come back for pupus when they're ready.
December 31, 2008
0

found this helpful
Thanks everyone for your ideas. We went with a semi-Hawaiian theme. Fruit kabobs were a big hit because all the girls are so weight conscience even some of the young men.
Teriyaki chicken kabobs. Cup cakes arranged in the number 16, instead of a traditional birthday cake. That way no extra plates or forks needed and they could grab them, go and wander around the pool. Good time had by all. Thanks again!
Answer

this Question

...