I love my landlord, but he is too thrifty. For just $80.00, he could have stopped up the vent holes in the units the right way. Instead, he had the maintenance man stuff them with wadded newspaper.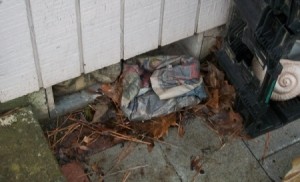 Not only does that not work, but the first rain ruined what it did do.
Since I can't drive my car right now, I had to fix it with what I had at the house. That is where my meat trays, millions of plastic bags and some discarded bricks came in handy.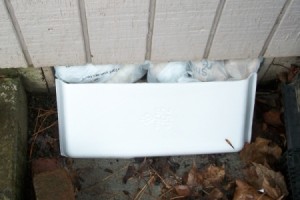 I stuffed some bags into a single bag, then poked a hole in the front so I could compress the bag without it ballooning up. The air escaped and it molded in nicely. Then, I had to trim off the top 1/2 inch or so of each long way on the tray. Then, I simply placed it under the lip of the siding, snuggled it in, and put a brick on it to keep it in place.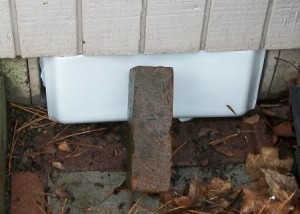 Note: This is makeshift for a reason. It's a stop gap between what was done and what should be done. To save $10.00 per four plex, we are all paying more for heat.
Being a diabetic, my circulation is critical and when the floors are cold, it doesn't help. So, my disclaimer is that while this is all I can do, it's not how it should be done.
By Sandi/Poor But Proud from Salem, OR