July 18, 2007
0

found this helpful
I would pick dark grey - as it will provide a contrast, and the beige would be too hard to make coordinate!
July 19, 2007
0

found this helpful
I LOVE DIYNETWORK!!!! If Im on the computer the tvs on DIY. The kids laugh because Im always on the next project. They have marble that is beige and has the gray and off white webbing. If your counter tops are in good shape and are laminated you can relaminate them its fairly easy with the color of your choice and an iron, once you prep the surface. They have come out with a new product that was on I want that! which was amazing marketplace.hgtv.com/Product.aspx?Lid=348-HGTVC83ED6 It worked like contact paper but was in metallics tones,.
It was heat resistant up to 350 degrees and water resistant for stains.If you want to go with a steel, copper or brushed aluminum look. Or if your real adventurerous you could always go with a tile, that you could do yourself, which can be carried up the backsplash, it can even be placed over existing counter once its preped. Loads of things to do with lots of choices. But as with all things buget, resell value( if thats where you want to go) and personal choice come in to play. Have fun!
July 23, 2007
0

found this helpful
That's an easy one i would go with a marble black or charcol color, the darkness of the counter will offset the light colors and would look awesome.. Go to a home improvement store and get you some sample tiles of formica and see what you would like...
July 24, 2007
0

found this helpful
I went with the contrast myself--dark grey/black mottled countertops with white cabinets, light blue walls and the beige/gray marbled floor---the countertop really 'pops'!
July 24, 2007
0

found this helpful
I would use a contrasting, not a matching, color.
We are working on our kitchen, we have light beige/gray marble tile in our kitchen. We painted the cabinets light gray and we painted the counter top black with a darker gray speckles kind of like a galaxy look.
We still have to put the sealer on.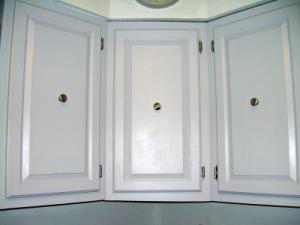 this is the countertop.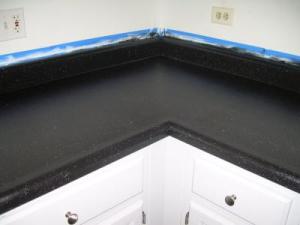 and this my marble tile. We are going to paint the walls a very light light gray.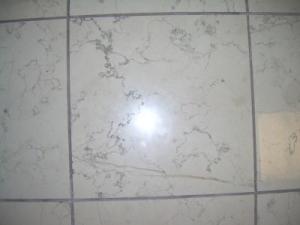 November 13, 2008
0

found this helpful
Hello everyone. I'm trying to decide what color to paint my counters. I have blue walls, blue laminate counters, my back splash is black and my floor is beige & brown ceramic tile floor?
What color would you paint the counter tops?
Thanks
Gail