Craft ideas for empty paper towel and toilet paper rolls as suggested from the ThriftyFun community.

Protect Delicate Roots
I use mine as bio-degradable plant pots for sunflowers and sweet peas that don't like root disturbance.
By Erryl
Napkin Rings
Cut them into 2 inch rounds and make napkin holders out of them. Cover in pretty scrap fabric and decorate with ribbon, flowers, etc. for that special touch.

By Laura
A Sword
Make a "Star Wars" sword. Take 2 or 3 rolls together and cover with wrapping paper, or whatever design you want. Add a plain color to the bottom of the "sword".

By Crystal
Favors
They can be used to make individual place favors. Our UMW group did this for a holiday meeting. Fill a toilet paper cardboard tube with cosmetic samples, sample sized lotions, candy, etc. Next, roll neatly in a tissue paper "square" that is 2 inches longer on each side than the length of the cardboard. Then roll again in a colorful netting that is the same size as the tissue paper. Twist each end of the tissue paper and netting and tie with a scrap of pretty ribbon. We did ours in holiday colors with gold ribbon and the cost was minimal, but the impact was huge. Everyone loved them, and I have kept mine so I can replicate them in the future.
By Ronsan
Electrical Cords
I use toilet tissue and paper towel rolls for many things. But the one I use most, is putting different size electric cords: curling irons, hair dryers, irons, extension cords in them. You can cover them with contact paper to make them a little firmer or leave them plain. When they get soft or lose their firmness, get a new one.

By Dee
Nutcracker Ornament
My friend, Mary L., made this cute nutcracker ornament for Christmas from a paper towel roll, a tongue depressor (for the nose), round clothespins for the arms some scrap sewing trim and fake fur. You can set it up to display, or if you have a large tree, hang him on the tree.

By Harlean
Make a Castle
You can glue them together with other cardboard to make a castle.

By Susan
Kid's Binoculars
Use empty paper towel rolls to make fun binoculars for kids.

By Michelle
Editor's Note: Here are some directions for making Safari Binoculars.
Egg Cups
Cut into 2 inch sections, paint in bright colors, cover with sticky backed plastic and use as egg cups. (They are exactly the right size for an egg to sit in.)

By Julie
For Exercise
Nursing homes use sturdy empty paper towel holders for various patient assists with physical therapy. One is have everyone in a circle and they can bat balloons around and get exercise they don't ordinarily get in their wheelchairs.

By Joan
Megaphone
As kids, we used empty paper towel rolls for megaphones. We had to take turns with it, or we'd fight for it. Which usually ended up tearing it up. Same goes for the empty rolls that rolled Christmas paper came on. These can also work as a paddle, we learned the hard way .
Very cute Nutcracker. I also loved the idea about putting the samples inside the rolls and wrapping as gifts. Clever.

By badwater
Rain Sticks
I use them to make rain sticks. Just take some aluminum foil, make a long snake like shape, as long as the roll, by twisting the foil. Take some paper and trace around the end of the roll, do this twice. One for each end. Tape or glue the first side on, put in the aluminum coil, add some rice or small beans, glue the other end on, cover the stick with paper and then decorate. My daughter really loved this craft and it was fun making it.

By Jennifer
Snowmen
I use them to make snowmen. Cover with white felt. Glue on eyes, nose, and mouth using felt pieces or wiggle eyes. A piece of fleece (make a tube) or top of sock can be put on the top as a hat. Just tie one end together, fringe or turn inside and cuff up bottom. I use pipe cleaners stuck into sides for arms. I have also seen angels, leprechauns, toy soldiers, etc. made out of them. Just use a ball of some type for the head. I don't use the ball heads on the snowmen, just make their faces right on the tube. And add the extras out of scraps. Wings, etc.
By Suee
Holiday Treat Holders
I rubber stamp on paper then wrap around to make cute holiday holders for treats.

By Pearl
Fire Starters and Other Ideas
Fill with dryer lint, shredded paper, etc, fold the ends in and roll in melted wax (you can add a piece of rolled paper or thin strip of cotton cloth for a wick) and you have a fire starter that works just as well as wax-coated pine cones or egg cartons.

I also cut a slit up the side of a toilet paper tube and use it as a collar when I plant tomatoes, peppers, etc., in my garden to keep cutworms from reaching my plants. Since they are biodegradable, there's no need to remove or dispose of them.

You can cut them into 1/4 inch circles, glue in different arrangements to make snowflakes. Spray paint them white, add glitter, and hang for some great Christmas decorations. If you flatten the tube, you get shapes that are easier to cut and make the snowflakes more interesting. I've even seen them cut into 1/2 inch rings and glued into wreaths (you can layer them for depth and interest). Spray paint different colors and decorated. They are amazingly simple to make and are really pretty, but best of all, they're a cheap craft. Oh ya, when you glue them together, use clip clothespins to hold until they dry.

By susan
Kids Kaleidoscope
Kaleidoscope, I did it yesterday for two 4 year olds. Used plastic wrap and put confetti on it with tape on top to hold confetti down. Placed plastic wrap over one end with the confetti in the middle. Then cover paper towel holder with paper, stickers and look at it on a bright and sunny day.

By Nicole in MN
Party Favors
With toilet paper roll cut it in half (could be in a zigzag) wrap in tissue paper with extra at each end. Put in goodies could be small toys or candy etc., then tie each end and you can break it open as a party favor.

By Cindy
Bird Feeders
When my kids were little, we coated the tubes with peanut butter and then rolled them in bird seed and hung them by the windows. They loved to watch the birds. You need to keep it up, though. Don't do it once or twice and then stop. The birds will begin to rely on it.

By Marlene
Clothing Hangers And Organization
Slice them just on one side all the way down, place over a wire coat hanger. Helps with not letting your clothes have crease lines on them. The bathroom paper ones work great on kids hangers too. Can also use the bathroom ones the same way on just one side of the top the wire or plastic hangers and write on them with a sharpie marker the size of your clothes. This is great tip for any clothes you are selling in yard sales or for your kids clothes, so you are not always having to look at the labels to see the size.

By Julie
Children Craft Ideas
My ideas are mostly just ways children can reuse those paper towel tubes to play and have fun.

Make a tilted slide much like you have in real water parks and sending small bottle caps through the slide to see if they hit right and float in the bowl of water.

You could send send small balls and marbles down it to play a kind of knock down objects bowling type game.

A Telescope

Here is a crafty project. Get a bag of all shapes and sizes colored rubber bands and decorate the tube completely with them. On each end blow up a colorful balloon tie one with a series of rubber bands slip them down the tube to secure the other balloon. If you work it right the balloons with fit snugly at both ends of the tube making a baton like toy.

How about using a wrapped and decorated tube as a gift box. Fill the tube with a variety of wrapped candies. Cork up each side with milk bottle caps and if needed scotch tape.
That is all I can think of right now. I am sure there are plenty more ways to use those paper towel tubes. Now it is your turn. Tell A Tubes anyone?

Post your own tips here.

Answers:
Craft Uses for Paper Towel Rolls
We also print out (specially for toilet rolls) designs from dltk.com they have a lot of TP roll crafts. My girls love making and colouring.
We also make princesses with paper and fabric scraps from TP rolls, great for the "pony stories" they create. (11/24/2007)

By Robyn
Craft Uses for Paper Towel Rolls
This was what I made with my 5 year old niece with paper tissue rolls. I found these great ideas from uniquehandmadegifts.blogspot.com. Great site with lots of information. (03/03/2008)

By Taylor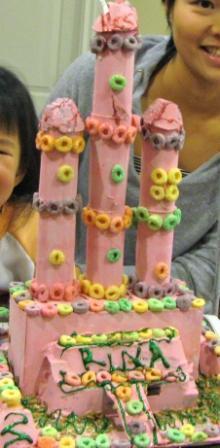 Homemade Bowling
Cut the toilet or paper towel roll into 5 or 6 pieces about the same size. Set them up like bowling pins, then use a ball to knock them over. (Great for all ages.) (06/11/2008)

By Junior2