If you are looking for a quick snack or meal, then give these popovers a try. They are easy enough for kids to make too.
Ingredients:
1 can refrigerated crescent roll dough (6 crescents)
1 cup chopped ham (I used black forest deli ham)
1 cup cheddar cheese, shredded
Directions:
Preheat the oven to 425 degrees F. Spray muffin pan with a non-stick spray.
Unroll the crescent dough and separate them along the precut lines. Divide the ham and cheese equally on to each crescent triangle.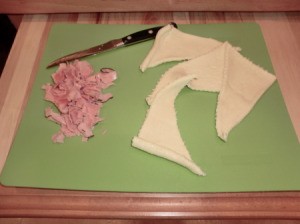 Starting at the wide end, roll up each crescent, finishing at the pointy end. You can trim off the excess dough on the end, I just push it down into the center of the roll.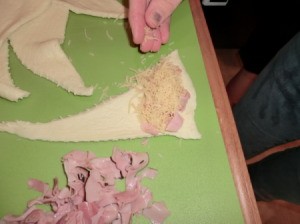 Place the popovers into prepared muffin pan and bake for 10 minutes or until puffy and golden brown.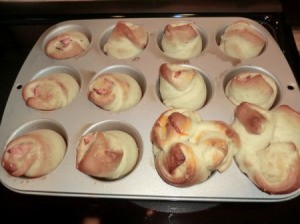 Note: In my photo of the baked popovers, the 2 large popovers in the corner are extra crescents that I just filled with cheese and stuffed 3 crescents into each of the last two muffin spots.
Source: "Cook It in a Cup" cookbook
By lalala... from Port Orchard, WA