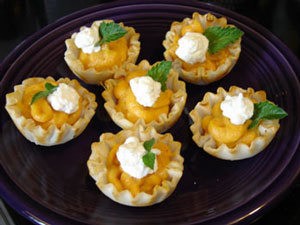 These no bake mini pumpkin tarts are a delicious treat to whip up for your next holiday party.
Ingredients:
15 pack of mini phyllo shells (I used Athens brand)
2/3 cup of canned pumpkin
1 cup whipped cream (or whip your own cream)
1/3 of a box (a little over 1 oz) French vanilla pudding mix
pumpkin pie spice
mint for garnish
Directions:
Take your mini phyllo shells out of the freezer 15 minutes before you put pumpkin in them.
Add 2/3 cup pumpkin and 2/3 cup whipped cream together, whisk until smooth.
Add 1 oz pudding mix to pumpkin and whisk together until smooth.
Put about a teaspoon in each phyllo shell, you can also put the pumpkin in a plastic bag and cut a little bit off the corner and squeeze the contents out into the shells.
Add a little of whipped cream on top (I did the whipped cream by putting some in a plastic bag with the corner cut off, this way you are able to put a tiny dollop).
Sprinkle a little pumpkin pie spice on top and stick a small mint leaf on top next to the whipped cream (optional).
WARNING: The mint looks wonderful but you may find it a bit overpowering for this appetizer.
Read More Comments
My partner and I don't really celebrate Christmas, so we're usually quite bored on the 25th of December as we have no friends or family around. A few years ago we started making this on Christmas Day and has become a tradition for us. We would serve it to friends for New Years or colleagues when going back to work. So good!
Ingredients
1 (16 oz.) package phyllo dough
1 lb. chopped nuts (walnuts or pecans)
1 cup butter or margarine
1 tsp, ground cinnamon
1 cup water
1 cup white sugar
1 tsp. vanilla extract
1/2 cup honey
Directions
Preheat oven to 350 degrees F (175 degrees C). Butter the bottoms and sides of a 9x13 inch pan.
Chop nuts and toss with cinnamon. Set aside. Unroll phyllo dough. Cut whole stack in half to fit pan. Cover phyllo with a dampened cloth to keep from drying out as you work. Place two sheets of dough in pan, butter thoroughly. Repeat until you have 8 sheets layered. Sprinkle 2 - 3 tablespoons of nut mixture on top. Top with two sheets of dough, butter, nuts, layering as you go. The top layer should be about 6 - 8 sheets deep.
Using a sharp knife cut into diamond or square shapes all the way to the bottom of the pan. You may cut into 4 long rows the make diagonal cuts. Bake for about 50 minutes until baklava is golden and crisp.
Make sauce while baklava is baking. Boil sugar and water until sugar is melted. Add vanilla and honey. Simmer for about 20 minutes.
Remove baklava from oven and immediately spoon sauce over it. Let cool. Serve in cupcake papers. This freezes well. Leave it uncovered as it gets soggy if it is wrapped up.
Source: This is a recipe from allrecipes.com
Read More Comments
Can some one please tell me the proper way to use Phyllo crust. I want to use this crust for Chicken pot pie. I bought it frozen and the package has no instructions.
Nancy from Moncton N.B. Canada
Answers
By Sarah J (Guest Post)
May 1, 2007
0

found this helpful
Phyllo dough is very delicate. Make sure that you defrost it completely before using. Also, it is helpful to keep a damp cloth over the rest while you are working with a sheet. It must remain moisturized or it will break. Good luck, hope this helps.
May 1, 2007
0

found this helpful
You want to brush each layer with melted butter.
You will want to use many layers, at least 5-6 layers, and do keep it covered when not using with a damp cloth as it dries out very quickly.
good luck.
Diana in Michigan
By solus (Guest Post)
May 2, 2007
0

found this helpful
I put a damp towel and wax paper underneath as well.
In fact, if you can get someone to brush the sheets and you work with them it goes really easy. ;-)
April 29, 2009
0

found this helpful
There is a lot of information plus useful links about Phyllo dough on this webpage:
Answer

this Question

...
I would like to know if anyone has any good dessert recipes using phyllo pastry. I have not tried to make anything with phyllo but I really want to try.
By AMBER DAWN from Toronto, Canada
Answers
January 13, 2010
0

found this helpful
Ingredients
4 medium apples (I use granny smith) diced, quite small
2 Tbs Butter
2 tsp. lemon/orange peel
0.25 cup -1/3 cup sugar(depends on tartness)
1 tsp. vanilla extract
1 Tbsp. cornstarch
1 tsp. cinnamon
0.5 pack of phyllo sheets
0.5 stick of butter (more or less) melted
1 powdered sugar for dusting
Preparation
Peel and dice apples. In a medium saucepan, add apples, sugar, vanilla, orange/lemon peel, cinnamon and cornstarch. Heat on med-low stirring every so often. Cook for about 5 minutes or until the apple mixture thickens. Remove from heat. Remove phyllo dough from package and have a damp towel ready so you can keep the phyllo sheets covered as you work. They tend to dry out very quickly. Melt butter. Using a pastry brush, brush one phyllo sheet. The longer side facing you. Fold in half (vertical) and brush again. Fold again to form a long strip. Brush again with butter if you like.
On one edge, add about 1 1/2 Tbsp. of apple filling. Roll in the form of a triangle, just like you would fold a flag. Brush the outside of the triangle phyllo turnover with extra butter. Place on a cookie sheet. Bake at 375 F. for 15 minutes or until nicely golden brown. Check after about 10 minutes so that they won't burn. Oven temps vary. Let cool and sprinkle with powdered sugar. For more search for your question, good luck.
Answer

this Question

...