August 30, 2011
0

found this helpful
Best Answer
I've had a similar situation with our Rosie and discovered she was actually allergic to the corn and some of the grains in her dogfood.
She's now on Lamb and Rice for $49.99 a bag for 35 pounds compared to feeding her Pedigree $22.00 for 40 pounds. We have 3 dogs and we had to start feeding it to all of them because the other two thought Rosie was getting something so much better.
For our budget that is very expensive but on the other hand we're not taking her to the Vet and her skin is better. I then noticed every time she came back inside from being out in the yard she was still chewing on herself and started to pay close attention to her every move and actually figured it out.
Rosie has a reaction to Pine Needles and only during the warmer months. During the winter when everything is basically dead in the backyard she's fine.
Per our Vet, she gets 2 Benadryl in the morning and 2 at night. Also when she comes back inside I can actually see hugh red blotches and tiny bite marks and sprinkle Gold Bond Extra Strength Medicated Body Powder".
It's Triple Action Relief, * cooling, * absorbing and * itch relieving.
It greatly helps and soothes all the redness,
I spray our yard but even so as long as we have Pine Needles it's a problem we will always deal with. The border of our entire backyard is nothing but Pine Needles. I rake them up twice a year and my two other dogs have no issues with it.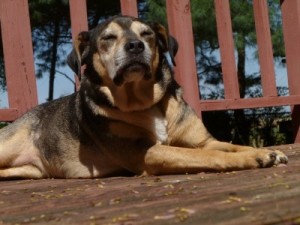 August 26, 2011
0

found this helpful
The problem may be psychological rather than physical. I have a Jack Russell that I've had since she was 6 weeks old. She also has the "itchy" problemand she has a lot of allergies, but I've noticed that it is usually worse when she is stressed.
Ask your vet about something to calm your dog down and see if this helps.
August 26, 2011
0

found this helpful
I agree that it may be stress related, but the poor girl may also be suffering from a mite under her skin (usually occurs after a bad case of fleas) or a yeast like infection. My dog has suffered from both at various times and it takes forever for the vet to think to test for it. Ask the vet to take a skin sample at the irritated site and check it, both problems are easily solved with medication.
If, however, it does turn out to be stress, try some herbal anti-stress tablets or add some camomile tea to her water dish and use a natural lavender scent near her bedding which not only calms nerves, but it is also a bug repellant.
August 29, 2011
0

found this helpful
My little Yorkie got so bad that he didn't have hair on his backside from halfway down his little body. It turned out to be an allergy. He now takes 1/2 a pill of methylprednisol one milligram every other day.
He is not itching and has grown back all his hair. It is not expensive. Tell her to ask her vet for a prescription. We now use K9Advantix for fleas. Good stuff!
August 29, 2011
0

found this helpful
I was given some advice from my dog trainer. My dog, Boo gets very itchy skin. He told me to add a tablespoon of virgin olive oil to her food every day. He said it would help eliminate the dry skin. Hope that helps.
August 29, 2011
0

found this helpful
Bet it is nutrition. No, no, no corn, wheat or soy in anything. No grocery aisle food. No Purina. Raw (at least part raw) is great. A little yogurt. A good omega 3 oil. A cooked sweet potato with some meat, brown rice, lentils, raw peas, green beans, broccoli, carrots, half cooked kale, a little coconut oil and a favorite mine cannot b e without ever is Nzymes granules.
You will be amazed at the skin healing and general health. Good for joints, brain, energy.
No vaccines. They destroy the immune system. Google thuja for dosage to counteract at least some of the vaccine damage. Rabies vaccine often causes aggression. Parvo vaccine often causes parvo. Check vaclib.org for documented ingredients in vaccines. You will never destroy another animal or child again.
August 30, 2011
0

found this helpful
I had to cook for my Cairn terrier for most of his life because he was allergic to many foods. After adding and eliminating many foods (broccoli was the worst) from his diet I hit the jackpot. I cooked brown rice and added a can of salmon (about $2) and some olive oil.
The salmon was perfect because the small bones and skin added calcium and oil that he needed. This was not expensive and he soon had a full coat of hair for the 1st time in his life. He never chewed again and lived to be 17 years old on that diet. I just kept trying new foods and when he started to chew again, I would try something new.
It took me many months to get the right formula. I was on my way to the exotic animal meat shop here in Seattle when I thought to try the salmon. Dont give up and good luck to you.
August 30, 2011
0

found this helpful
I should have added in my 1st post to check and see if you friend uses commercial lawn fertilizer. Many dogs are allergic to it and owners go nuts trying to figure out why they chew their feet and bellies in the spring and summer. The cure is switching to organic lawn fertilizer.
August 30, 2011
0

found this helpful
My male dog had very dry skin that caused him to itch. We began putting a fish oil capsule in his food daily and he stopped. Benedryl can also help if its a reaction.
September 4, 2011
0

found this helpful
Every fall Zues comes home from his walk in the wet grass, and chews on his feet. He gets what they call red spot, they have a spray in the pet department for this. It stops the itch. Maybe this will stop the itch on the skin.