November 16, 2006
0

found this helpful
hi,
i havent cut the backs off mine does that make it easier? also do you have pictures of your creations id love to see them can you e-mail them to me? also how do you sew them and what part of the back do you cut off?
thanks
sandy
e-mail dalejrfan125@yahoo.com
November 16, 2006
0

found this helpful
Stella says she cut the backs off of hers:
November 17, 2006
0

found this helpful
Thanks for the tips. I have a bunch cut off. I also feel better with the backs on there much more sturdy.
Or maybe I am just use to it this way. I also can't find the exato knife in walmart. So the bags still look shabbish.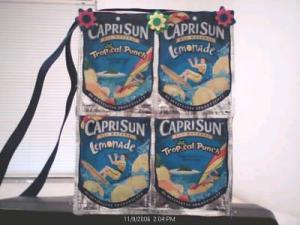 November 17, 2006
0

found this helpful
Xacto knives are usually in the hardware department or you can find one in your local Ace or TrueValue hardware store. A sharp box cutting knife would also work.
November 17, 2006
0

found this helpful
Thanks very much. I have been using my thread cutter. It slides right thru. I would think the e-knife would puncture the pouches.
By (Guest Post)
November 19, 2006
0

found this helpful
You do not cut the backs off the pouches, that is part of the strength! You cut out the bottom, which gets folded up inside the pouch when you assemble them.
It takes a little time, use a small scissors..you don't need anything special. Wash them out, now having a big opening in the bottom to do so and dry them.
November 19, 2006
0

found this helpful
I have the patterns for so many things. They all have the backs cut off. Now I feel ths same as you about the strength. But I have followed the patterns directions 3 different times. The strength is there without the backs on them as well. The bag has straight and ziz zag stitching. I am new to this and having a great time learning. I will leave the backs on all bags not lined with fabric. This will save me time on cleaning them. Thanks very much for the advice.
By LaraRenee (Guest Post)
March 15, 2008
0

found this helpful
I came on here to look up a microwave heat pack to help my sick cat. Everyone on that post was really nice and positive, so after I took care of the cat I started looking at other links here. In the feedback on several questions people have said things like "in the real world", or "if you would get a life", or "this isn't brain surgery". I wonder, don't these people have better things to do? You can say I sound like an old woman (which I'm not) or like a peaceful tree hugger (which I am) but either way, can't we agree to be nice when talking about things like crafts for goodness sakes?
Editor's Note: If you notice anything in the feedback that you think is unfriendly, not helpful or worse, please click on the link next to the feedback and let us know. We try to keep ThriftyFun clean, helpful and friendly. We do our best to keep stuff like that out but it's a big job and we can use all the help we can get.