By zaf (Guest Post)
July 10, 2007
0

found this helpful
buy pure vitamin E and burst the capsules on your skin
By Donna Ashley (Guest Post)
July 13, 2007
0

found this helpful
I'm 63 tomorrow -- this past year I noticed my skin was turning into aligator quality -- never had this problem before -- searched the pharmacy shelves for an answer -- have purchased creams and lotions of all kinds and all price ranges -- and then I found a lone jar of Jergens All Purpose Face Cream for $5.00. Within two days my skin was years younger. I now order it online -- almost impossible to find otherwise. Dozens of my friends love it. I call it Jergens Miracle All Purpose Face Cream. It works, it's comforting and it's truly amazing.
July 14, 2007
0

found this helpful
First off, take internal oils. I highly recommend you take a tablespoon of Eskimo 3 oil, a tablespoon of grapeseed oil and a tablespoon of walnut oil EVERY DAY. My mom who is 60 has very good looking healthy hair after taking the grapeseed oil. However, I have dry skin all over and also naturally dry hair and so, the above 3 oils have done wonders for me.
Secondly, I would recommend you get a good quality Body scrubs however you will need to exfoliate for a good 30 mins all over every few days.(NOT the face!) Another thing you could use is a shower brush -takes less time to exfoliate!
Now for the body creams. You can either use natural or commercial products.
Natural oils I would recommend are Sweet Almond Oil or Burt's Bees Apricot Baby Oil.
Commercial ones I would recommend are The Santury Crème Soufflé or
Mande Lular (
cgi.ebay.co.uk/THE-SANCTUARY-SPA-COVENT-GARDEN-MANDE...
)
Now for your face- I highly highly recommend that you still take the above oils, but also the 30 day Beauty Secret (
www.evitamins.com/product.asp?pid=1353
)
and use Lavera Face Wild Rose Range for Dry and Mature skin. (
lavera.com/
)
I use the combination one, mom uses the Wild Rose Range and we've both been happy for the past year!
If not happy, try Dr. Hauska Mature skin range - it's more expensive though and doesn't have the same effect as I like from Lavera!
Hopefully, you will find the answer through my suggestions!! The oils are essential no matter what else you do!:)
By june from Ontario (Guest Post)
July 16, 2007
0

found this helpful
I buy Johnson & Johnson 'Baby Oil Gel'
Found in the baby section of your grocery or department store.
I put this on after a nice relaxing bath,and just before I go to bed.. It is a thick gel and you will need to wear long p.j. so the gel will not get onto other clothing or furniture. In the morning your skin will feel soft and for days afterwards too.
July 16, 2007
0

found this helpful
I suffered with dry skin for most of my adult life to the point where my skin would sometimes even crack and bleed, then I read about a very old fashioned remedy that was also very cheap, and as I have tried almost everything else I thought I'd give it a go. Within two days my skin had stopped flaking, and there were no more sore bits, and now I don't even have to use it every day!
What is this miracle cure? Just plain old water and Glycerine. Two parts water to one part glycerine, smoothed on sparingly (a little goes a very, very long way!) once a day. It has even cured those problem areas like knees and elbows!
July 18, 2007
0

found this helpful
Try these homemade face packs for dry skin.
1. Avocado and Yogurt Facial Mask for Dry Skin
Avocado, which contains vitamin E, as well as other natural oils, is a great moisturizer for dry skin.
Place a ripe avocado, peeled and seeded, in a blender or food processor with four tablespoons of plain yogurt. Blend until smooth. Apply the mixture to your face, avoiding the eye area. Leave on for ten to fifteen minutes, and then rinse your face with warm water.
2. Banana and Sweet Almond Oil Facial Mask for Dry Skin
Peel one banana. Place half of it in a bowl. (You can eat the other half.) Mash the banana with a fork. Add1 tablespoon of sweet almond oil and stir the mixture until smooth. Apply to your face and leave on for ten to fifteen, then rinse off with warm water.
3. Honey and Egg Facial Mask for Dry Skin
While honey is a natural astringent, it will also moisturize your dry skin.
Separate the yolk from one egg. (You can use the rest for a light, egg white omelet.) Mix the egg yolk with 1 tablespoon of honey, and stir the mixture until smooth. Leave on for ten to fifteen minutes, then rinse off with warm water.
4. Honey & Milk Facial Mask for Dry Skin
For a quick-fix facial mask for your dry skin, mix two tablespoons of honey with two teaspoons of milk. Apply the sticky mixture to your face, and leave on for ten to fifteen minutes. Then rinse off with warm water.
For more natural beauty tips please visit my blog-
mynaturalbeautytips.blogspot.com/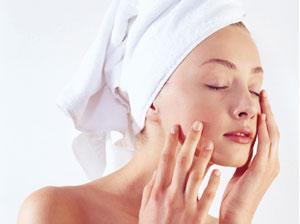 July 25, 2007
0

found this helpful
I have psoriasis and problems with cracked, bleeding hands & fingers. It is ALWAYS more severe during the winter months. With no insurance for Doctors' or treatment, I have tried nearly everything on the market to no avail. However, a former boss let me try Gold Bond Ultimate softening skin therapy lotion. This stuff is TOTALLY amazing!!! It almost heals you up overnight. It certainly helps with 'dry skin' and leaves no greasy residue on your skin. I absolutely LOVE it! Give it a try - I don't think you'll be disappointed.
By varsha raheja (Guest Post)
July 29, 2007
0

found this helpful
the most easy way to get rid off dry skin is to apply coconut oil after taking a shower and then dabbing your skin dry. you could also use a mixture of Begal Gram flour and milk apply on the whole body, rinse after 10 minutes. Do not apply soap.
September 1, 2007
0

found this helpful
Try using Extra Virgin Olive Oil as a moisturizer for dry skin. It works like a dream, is ridiculously cheap, it's natural and you'll probably find it in your kitchen cupboard!
If you like, you can apply a honey facial mask before the oil. Honey is a humectant, meaning it attracts and retains moisture and is great for sensitive skin people, too!
Just splash face with warm water to open pores, smear on honey, leave on for 15-30 minutes, rinse with warm water and finish with a splash of cool water to close pores. Then moisturize with the olive oil.
By vivi76 (Guest Post)
February 1, 2008
0

found this helpful
I use Aveeno baby Daily moisture lotion on my face and neck and it keeps my skin feeling soft the whole day as well as keeping my skin blemish free. It's Fragance free and has Natural Colloidal Oatmeal. It absorbs quickly so you don't feel it, only the smoothness throughout the day. Hypoallergenic and seriously if it's good enough for babies skin (pediatrician recommended) then it's good for adult skin. I've been using it for over 2 years and my skin has stayed smooth and blemish free and I used to have combination and pimpled skin.
By Robyn Scott (Guest Post)
August 26, 2008
0

found this helpful
Using a great moisturizer is an absolute necessity. Shea Butter is just about the best idea when it comes to skin moisturizing. While regular moisturizers are good, they only last for a little while. This isn't that great in perfect weather, not to mention the harsh Winter weather. A moisturizer stays on and provides a barrier against the elements. With the healing properties of Shea Butter, your skin is receiving great benefits every time you smooth it on.
Here are a few more suggestions for prevent dry skin in the first place:
1. Cover your face and body when it is windy outside.
2. Wear gloves when the temps begin to drop or when you are gardening.
3. Don't go barefoot often. It is hard on the bottom of your feet.
4. Use gentle ex foliating treatments to remove dead skin.
5. Moisturize daily, if possible twice with Shea Butter
6. Wear that sunscreen, even in the winter.
7. Bath in lukewarm water, using mild soaps.
. Don't overuse antibacterial soaps.
9. Drink water
10. Eat healthy and don't forget those fruits
Remember dry skin makes us appear dull and can cause us to age quicker. Do what you can to keep that skin soft and moisturized.
To learn more about Shea Butter, visit Purely Shea at http://www.purelyshea.com for more information.