By guest (Guest Post)
July 30, 2008
0

found this helpful
God bless you and your husband for caring for the sweet baby xoxo
July 31, 2008
0

found this helpful
She's cute!
In February my husband was driving down a dark wooded street near our house. He saw something hopping around in the middle, slowed and then pulled over to the side. It was a great horned owl. It had been hit as there were feathers all over the road. He also saw that there was a dead rabbit which is why the owl was in the middle of the road to begin with.
As he neared it the owl spread it's wings to almost 5 feet across and started to hiss. He took off his coat and shooed it to the side of the road and about 15 feet into the undergrowth. He then called me and told me to see if I could find anyone that could help it as it was obviously injured.
I got on the internet and immediately found some licensed wild bird rehabbers. They said that they would be there in 45 minutes. In the meantime my
husband came home and took a laundry basket back to put over the bird so that it wouldn't get lost.
The rehabbers came and took the bird away. They called 2 weeks later and said that the bird was healed of its minor injuries and ould like to release it close to where it was found. After a bit of prodding, the owl took off. The rehabbers said that since it was still late Feb. that the female would still be able to find her mate.
The rehabbers were an elderly English couple that were state and nationally licensed. They received some federal assistance to provide medical attention to injured wild birds.
tripletma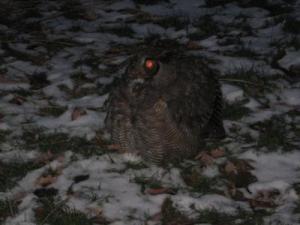 August 2, 2008
0

found this helpful
It is nice to know that there are still people out there who go out of their way to help an injured life. Thank you for taking care of such a beautiful bird.
August 4, 2008
0

found this helpful
Wow how amazing.
August 5, 2008
0

found this helpful
If you know anything about owls, you don't want to pick them up with your bare hands. My husband wore scent free gloves. Thank you for your input Melody. I've always heard the same thing and was raised that way also.
August 5, 2008
0

found this helpful
I always heard never even touch a wild baby animal - after that the mother is offended by your scent & won't have anything to do with it.I know a lot of people with compassion who are sincere & want to help the critter & can relate to that want but more times than not it isn't the thing to do.That's how I was raised -- nothing personal because i have tended to injured birds that were brought in with storms with broken wings so I DO know how it is to not be able to care.
www.dnr.state.wi.us/.../wildanimals.htm
this applies to any state : www.google.com/search?hl=en&rlz=1T4GGIK_enUS276US276...
By Bookeesmom (Guest Post)
August 6, 2008
0

found this helpful
I love reading things like this! While living in Incirlik AB, Turkey, we found a baby owl in our back yard just sitting very still under a tree. We called the wildlife people on base and they ran over immediately stating that they were doing studies to understand why the mother owls were neglecting their babies in that area. We never got the answer on that one but we did find out that the bird survived and they released it back into the wild. It was such a beautiful creature, I was in awe of it.