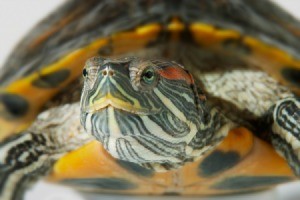 I have an unusual problem. I have 3 small turtles I would like to hibernate indoors this winter. I don't want to use dirt from outdoors because of bugs and I can't seem to find soil from nurseries without fertilizers (bad for turtle shells). Is there anyone who shares this interest in pet turtles? Thanks.
turtle lover from Visalia, CA
Answers
By Roxy (Guest Post)
October 9, 2008
0

found this helpful
I use white play sand, you can buy it by the bag at Home Depot. Its used for children's sandboxes so its safe, just make sure the bag says "Play Sand." Good Luck!
October 10, 2008
0

found this helpful
Hello! I have had a box turtle for about 7 years now. It was given to me by my husbands nephew as a baby.I didn't want to use the dirt and sand either because of being inside.I put her in a 25 gallon aquarium with medium size aquarium gravel, some plastic plants and a large shell that she likes to hide under. I also added a plastic container with water because she loves to play and hide in in.
I put two flat rocks up against the "water bowl"so it's easy for her to get in and out. The gravel is easy to clean and if it's thick enough she can still burry herself if she wants to.I also put vitamins on her shell once a month or so.She has more than tripled her size and is doing great. She loves tomatoes and once in awhile a white grape.
I feed her dry turtle food, but she does like it soaked. I use plastic lids from mayonnaise jars, fill it with water and then put the food in. It gets soggy but that's how she likes it. I hope I've helped a little. Good luck.
By prospecial (Guest Post)
October 13, 2008
0

found this helpful
Don't want to use play sand , gravel or litter? Simply take some earth from the garden and microwave it for 3-5- minutes in a plastic cup. That will kill ANY organisms that may be there , sterilize the soil, AND it will give your pet the natural type soil desired for hibernation. Works fine.
October 13, 2008
0

found this helpful
I have a tarantula, and ran into the same problem. I bought a bag of vermiculite and a bag of potting soil. Put each one in a layer on a cookie sheet and put in low oven (250) for about 1 1/2 hours, kills any fungus, bugs etc and is way cheaper than play sand. cinnamon
Read More

Answers