August 13, 2009
0

found this helpful
How do you get tree sap off your dog?

Irma

Answers:
Tree Sap on a Dog
Hey, great idea! It worked right away. Poor Lab got sap on paws, near ear, and on top of head and this worked right away. Thanks so much. I like earth friendly product ideas instead of all those nasty chemicals. We had to take down 6 black hills spruce pines and it is gonna be a summer of sap, so this is a blessing! (05/05/2008)
By Pammy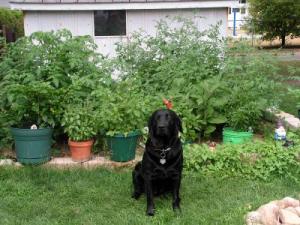 Tree Sap on a Dog
Thanks for the info, it really works. My dog KC loves peanut butter. KC said, "YUM". (06/11/2008)

By Jo
Tree Sap on a Dog
Thanks for the butter idea. The sap came off his paws so great and he loved licking it off. My dog buddy boy is so much happier that it finally came off! (06/20/2008)

By sylvia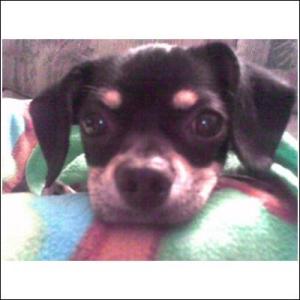 Tree Sap on a Dog
I have a Labradoodle and she had sap all over her paws, her toes were actually stuck together. I tried the butter thing and worked right away. Thank you! (06/28/2008)

By Brian
Tree Sap on a Dog
Thanks so much. I didn't think Tila would ever be sap free! (07/03/2008)

By LP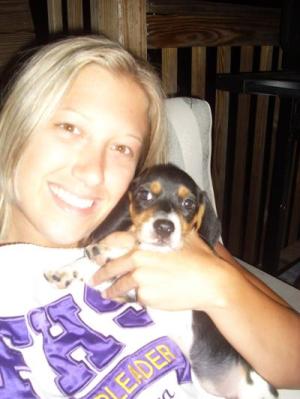 Tree Sap on a Dog
The creamy Skippy also works on my wife's hair (we're mammals too, you know!). I had to talk her into trying it, but now we're sold. And it's planet friendly. :-) (07/07/2008)

By Erik
Tree Sap on a Dog
My dog Cheyenne had stepped in a big pile of sap/pitch and it covered her whole left back foot. I read on here where butter would help. I tried a stick of butter and it was working but not as quickly as I would have liked. I then tried olive oil and I rubbed it in her paw between the pads and it literally melted away. She had a tiny stick and rocks embedded in between her toes. Poor girl. Make sure when you do this it is either in a bathtub or outside. Also another helpful hint would be to wash the area off with Dawn liquid dish soap. It will take away the oily greasy mess. :o) Thanks again for the butter tip! (07/12/2008)

By Barbie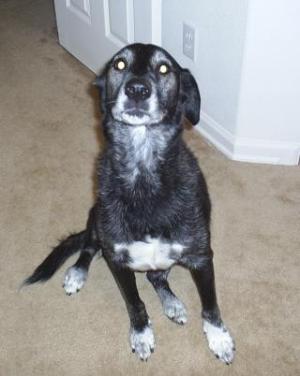 Tree Sap on a Dog
Wow, you are amazing. I was on a trip with my humans and I went for a little break at a rest stop. When I was licking my paw a little more than usual they found the sticky tar between my toes, it was a mess. They were very lucky to find this site because the butter did as you all said; it melted the sticky sap away. They also gave me a spoon of peanut butter to keep me happy. You are life (or should I say paw) savers!

Signed, One Happy Puppy (07/19/2008)

By Symba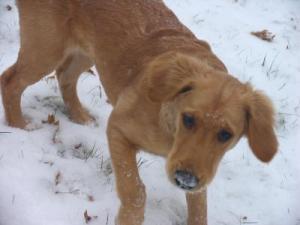 Tree Sap on a Dog
Country Crock margarine; nope. Real butter; yay, a sap free pug! (07/28/2008)
Tree Sap on a Dog
Yea, it works! Buster must have laid down on a pine cone or something, but he had sap in his groin area. A little dab of butter and it's all gone. I guess peanut butter would work the same? (08/27/2008)

By Louise
Tree Sap on a Dog
My 5 month old Maddy had what I believe to be sap on her neck. All the things I tried just left her running from me, cooking oil didn't cut it either but helped and made it less. The butter acted like water just washing it away. Thanks so much, I thought she was doomed as the sap was close to the skin and didn't want to leave her looking horrible by having to cut it out. Maddy says thank you! (09/21/2008)

By Chrissie
Tree Sap on a Dog
I play in the woods of my human's house and we walk trails. I come in with sap patches almost everyday. They tried the butter on it while I was sleeping and it worked great! Now they won't make such a big deal when I run into the woods and lay under the trees. Thanks so much.

Lambert (4 month dobie mix.) (09/28/2008)

By Lambert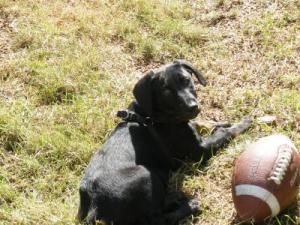 Tree Sap on a Dog
I just tried the butter and it worked great! I am always skeptical of things I read on the web, but this tip was incredible! (10/01/2008)

By Rachel
Tree Sap on a Dog
Wow, peanut butter works really good on dogs! Thank you! (10/18/2008)

By Damian
Tree Sap on a Dog
Butter worked like a champ! The sap was off the dog in no time and he never moved while getting cleaned off. (10/27/2008)

By chris
Tree Sap on a Dog
Thanks so much my Papillion and Pit like to play under the pine trees, and they always get so much sap on them! I found that the cheaper and oilier the peanut butter the better. Olive oil worked best on my Pap's ear area though :) Thanks so much for giving the info! (11/06/2008)

By Shawna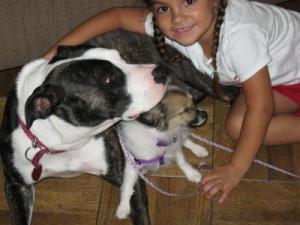 Tree Sap on a Dog
My 3 1/2 month old English Bulldog had it all over his back end. A little baby oil, rub it for a few minutes, and then gave him a bath. Tree sap is gone! Whoo Hoo! (01/12/2009)

By Dodger
April 30, 2008
0

found this helpful
My dog stepped in pine tree sap. It's stuck in the fur between his toes. The area is too small to cut with a scissors. How can I remove the sap safely?
Kasbal from PA
Answers:
Tree Sap on a Dog
While waiting for feedback on this site, I did some additional searching. Peanut butter also takes sap off of dog fur. Then, I had to wash his paw with Dawn dish soap and water to remove the peanut butter. The best part was that he was able to lick the remaining peanut butter as a treat for lying still! Thanks for the help! (04/12/2007)

By kasbal
Tree Sap on a Dog
Try peanut butter. Massage it into the fur and sap and it should start to dissolve. You may have to use your fingernails to scrape it off the hairs. Your dog will love licking up the leftovers too. This also works well with getting EEG glue out of hair. (04/13/2007)
Tree Sap on a Dog
Gee wish I had known about this years ago, I use to work in pine forests in S.C. and got sap in my hair all the time, I used rubbing alcohol or turpentine to get it out. Butter or Dissolve It would have been much better and I would assume butter would be a good conditioner also. T (04/15/2007)

By Tumpy
Tree Sap on a Dog
Butter! I had no idea and I didn't believe it until I tried it, but butter was a miracle worker with the tree sap. Removed every last bit and I didn't have to cut any hair out, thanks for the tip everyone. (06/02/2007)

By JohnK
Tree Sap on a Dog
Thank you for the butter idea. My dog laid down under a pine tree and got sap stuck to his nose, head, and back. The butter worked wonders and he loved licking the spots of his back side. The one spot I wasn't sure it would come off of, was on his nose near his eye. The sap came off with out getting in his eye. Thank you. 06/12/07
(06/12/2007)

By pved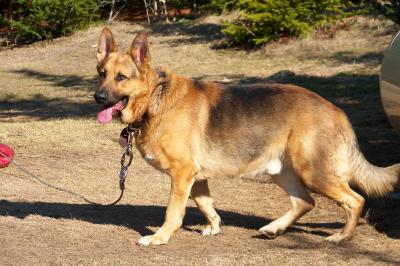 Tree Sap on a Dog
Just tried butter on my puppy and it works great! Nice and fast. (07/15/2007)

By Sandy
Tree Sap on a Dog
The butter works great, even on the spots in between my dog's paws where I was sure it wouldn't come out without trimming the hair. She would also lick the spoon while I wiped her clean which helped keep her still. (08/06/2007)

By Meagan
Tree Sap on a Dog
This morning my little Maltese went out and when he came back in he had pine tree sap on his paw and ear. I looked on the net and found this site and thank goodness for the use of butter it worked great! He is now enjoying licking his paw. Thanks (08/21/2007)

By barbara J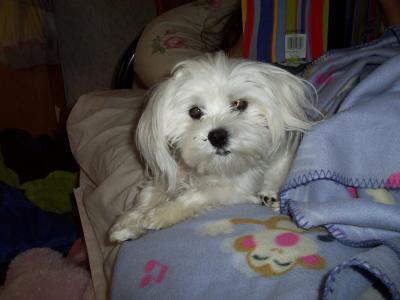 Tree Sap on a Dog
Thanks you so much for the idea of butter on a dogs paws. I let my dog outside to go to the bathroom and when I let her in she has pine sap and pine needles all over her paws I looked impossible to get out, but once I looked up how to get pine sap out of a dog's paws? It came up with this.

It worked wonders thanks. xD (08/22/2007)

By

Tree Sap on a Dog
We have a little Lhasa Apso pup that has fallen in love with our Christmas tree. Thanks for the butter idea to remove sap. Finally, a non-toxic, easy to do idea to save our puppy's hair from the clippers! :) This is absolutely genius! I can guarantee that our pup thanks you too! (12/01/2007)

By B & C
Tree Sap on a Dog
Thank you so much. My toy Poodle got into some sap running around in the backyard this spring. The butter worked like a charm and she got to lick off what I was unable to clean off with a tissue. A great site!
(04/17/2008)

By Emily Palmer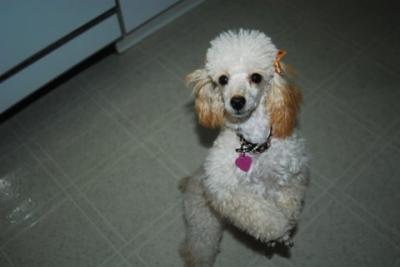 Tree Sap on a Dog
Butter, on in my case Land O'Lakes Fresh Buttery Taste Spread, did the trick. Our Boston Terrier got sap on her belly while out sunning herself on the deck. Three days later the sap had hardened and was looking dirty. I sure was happy to find this suggestion. Thanks! (04/25/2008)

By Jody
Tree Sap on a Dog
My five year old daughter loves to climb trees. I have had to cut her hair several times because of all of the sap, until I read about the butter. I know it was meant for dogs, but I'll try anything! I couldn't believe it! Worked on the first try! (04/25/2008)

By Muppet381
Tree Sap on a Dog
Awesome! The butter worked perfect. Thank you who ever found this great solution. My pug Winston thanks you also. (04/25/2008)

By Donalyn Rusch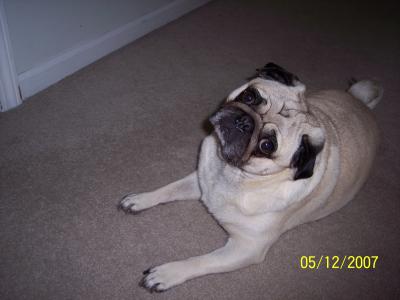 Tree Sap on a Dog
My dog Toni had something sticky on her forehead for a few days. The fur was stuck together forming a little point and it was so tightly stuck I started to think it was a growth. I tried Vaseline, aloe vera, and alcohol, but nothing worked. My husband said maybe it was sap so I found this site and am sooo happy to report that the butter worked fabulously! She also enjoyed having a little to lick while I was "buttering her up" :)

Toni says thank you too.(04/27/2008)

By Helen