Chicken Paprikash is a wonderful dish made with sour cream and lots of paprika. This is my favorite recipe for it. I don't think that adding green peppers is strictly authentic, but it tastes darn good to me. Spaetzle is little, tasty dumplings/noodles/pasta, well, look at the picture, and pick the category you think is best, because I sure don't know. I guess I'd call them noodles. All I know is that they are really good, and a nice change of pace.

If you are lucky enough to have a spaetzle maker, they are really super easy to make. I found one at a thrift shop, and I love it. It has a part with holes in it, kind of like a grater, that fits across the top of a pot of boiling water (or soup or broth), and a basket that you put the dough in. Sliding the basket back and forth across the grater forces the dough to drip into the water. Voila, so easy!

If you don't have a spaetzle maker, some people put the dough into a colander with extra big holes, and force it through into the water. Others put it onto a plate or cutting board and slice little pieces of it into the water. The latter is the way I used to do it, and it works just fine; it's just a little slower. Either way, it's worth the trouble.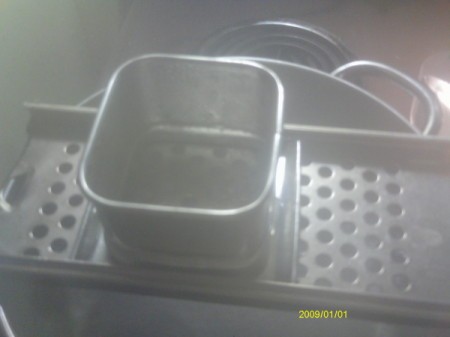 Ingredients:
Chicken Paprikash:
4 chicken breasts, skinned
1 medium onion, roughly chopped
2 medium green peppers, seeded and chopped
1 1/2 - 2 cups water
1 Tbsp. butter
2 - 3 Tbsp. paprika
1 1/2 cups sour cream
1 - 2 Tbsp. cornstarch
Spaetzle
3 eggs, beaten and frothy
2 cups flour
1 cup milk
1/4 tsp. nutmeg, optional
1/2 tsp. salt
3 Tbsp. butter
Directions:
I make the spaetzle first. Then when dinner is coming together, that's done, and I just have to warm them up.
To make the spaetzle:
Beat the eggs, then add in the salt, nutmeg, and milk. Beat in the flour a bit at a time. Beat until well blended, about 5 minutes. This dough will be thick, but will slide off a spoon in a thick sheet, as shown in the picture.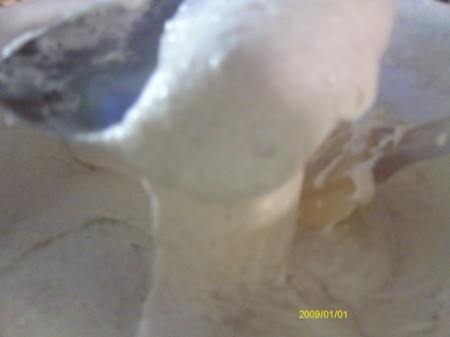 Put the dough into the basket of the spaetzle maker and place over a pot of boiling water. They are also really good put into a pot of soup! Mmm, they take the flavor of the soup up really nicely.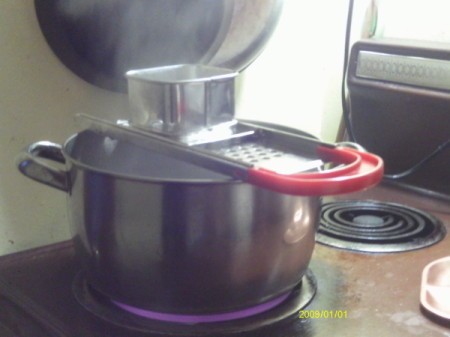 Slide the basket back and forth allowing the dough to drop into the boiling liquid. Stir to keep them from sticking together. They will float to the top when they are done.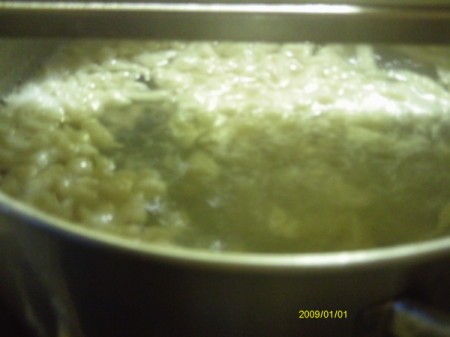 Take them out with a large slotted spoon and drain in a colander. The picture shows you what size they are. Put them in a skillet and add the butter while they are still hot and stir it in.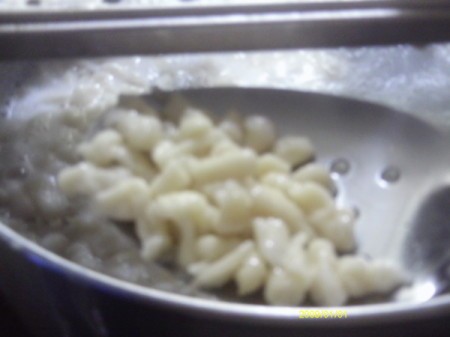 To make the chicken paprikash:
Melt the butter in a large skillet over medium high. Add the chicken, meaty side down. Brown it well, then remove from skillet. Add the onion and green pepper and saute until they are just starting to soften. Add the paprika and salt to taste (here's a tip, don't add pepper to dishes with paprika as it can overwhelm the flavor of the paprika). Saute the paprika for about 30 seconds to develop the flavor. Add water to just about cover the chicken. Cover and cook about 25 to 30 minutes, until the chicken is done.
Remove the chicken and let it cool until it is cool enough to handle. Then remove the meat from the bones and cut into bite size pieces. Meanwhile, keep the veggies cooking over medium heat to let the liquid simmer down a little. Add the chicken back to the pan.
Mix the cornstarch into a little water, and add enough to thicken the broth until it is a little thicker than gravy. Then, making sure the heat is on low, stir the sour cream in. Heat on low for a few minutes, but don't boil or the sour cream might curdle.
While the chicken is cooling, warm the spaetzle and butter over low heat, stirring occasionally. Some people like to brown them a little. They get a little crispy, and are really good like that, but I like them un-browned for this dish.
This is really good with slices of rye bread to sop up the gravy, a leafy green salad, and your favorite veggie.
By Free2B from North Royalton, OH