May 11, 2007
0

found this helpful
God lent you some very special angels. I read somewhere that God gives us pets/animals so we can realize/find out what unconditional love really is. God bless you and your broken heart, and I thank God for people like you.
May God give you peace of heart and mind in the loss of your fur angels. You show the world that even old dogs and cats have love to give and memories to be made. Thank you for being a caretaker of our elderly fur friends. God will bless you.
May 11, 2007
0

found this helpful
awwwwwwwwww. Im so sorry for your loss.... You and skippy were so lucky to have each other...... I wish you well. Here is a pic of my boy David who showed up when the wind chills were about 20 below this past Feb. We could not find his owner tho we searched, but hes chipped now and fixed and i hope he lives a long life like your dear Skippy. You never know - we never planned on having a dog, but sometimes God just gives you one. (smile)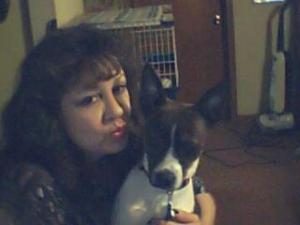 May 12, 2007
0

found this helpful
I'm so sorry for your loss. I can empathize because I lost two of my three pets (2 dogs and 1 cat) this past Dec. and Jan. My old dog (a rescue animal) had to be put to sleep (I had him for a year and a half), and my 8-year-old Pomeranian died of a massive tumor on his pituitary gland - died within 24 hours of his first seizure. You can imagine how traumatic that was!
I hope you got a new dog. I got two more from the humane society - an 11-year-old female dachshund (she's a real sweetie)and a 9-month-old golden retriever mix (he's a real handful). I know, when I get an old dog, that I won't have them long, but I can, at least, make their last days good ones! Thanks for sharing your story about Skippy and God bless you!
May 12, 2007
0

found this helpful
Thank you for writing about Skippy and Rascal and Spunky. A few years ago one of my doggies died at 18-1/2, and now my mixed terrier is pushing 17. (I don't know when her birthday is either. I was told she was 2 when I got her.)
It's hard to lose a pet, especially after all those years together. Mine will forever be in my heart.
May 16, 2007
0

found this helpful
Thanks for sharing Skippy with us. You will find many animal lovers here at Thrifty. We had to put our Samantha dog to sleep in January 5 years ago. She was a lab mix, sweet as a dog could be. About a month later, we adopted a shelter dog, lab/chow mix, Toby.
Toby had 3 homes during his first year, but has been our forever fur baby now for 5 years. Consider doing the same. It helps get over the pain, although you will always miss Skippy. I still cry sometimes over my Sammie Girl.
May 21, 2007
0

found this helpful
Thank you all for your kind words. It has taken me this long to look at my Skippy's pic on the site. But now I am sorry I didn't look sooner, all of your kind words and loving thoughts have truely warmed my heart!!!
God love you all and thank you for sharing your thoughts about my fur babies
Mary
By Linne Dodds (Guest Post)
May 22, 2007
0

found this helpful
Another one will find you because your heart is good.
Not a replacement .This just doesn't happen .
I lost 7 cats in 2006 . I also found kittens at different times & one of them has given us a dear boy . We live in a Drop Zone. I call them my Dumplings .
One of the kittens arrived on the same day Steve Irwin the Croc Hunter died . I heard him Yowling outside my Mothers window over her TV set & she has bad hearing. I Had to name him Croc . He's a Love .They all are & I think he has the loudest Purr I've ever heard .
We have a daschund our roofer was going to take to animal control . I opened my arms & said Animal Shelter Here. He a sweetie .