April 2, 2008
0

found this helpful
Pizza in the pie irons is really easy! Use store-bought bread or tortillas... spray the Iron with cooking spray or lightly butter one side of each slice or bread (this keeps it from sticking) Lay one in the Iron, add a teaspoon or two of sauce (we just get a jar of spaghetti sauce) top with your favourite pizza toppings and cheese then lay a second slice of bread or another tortilla over it and clamp the iron together....
put into the coals for... maybe about 4 mins. a little more or less or until done. They're really great...
Another way is to leave out the sauce and use it for dipping. My family LOVES this... and we make pies for dessert... try adding a few chocolate chips to a cherry pie!! wow!
By Ron (Guest Post)
April 2, 2008
0

found this helpful
Foil dinners are a great, fun way to cook over an open fire. These are great for the first night of a backpacking trip too. Prepare and freeze your foil dinners the night before you leave, then put them in your backpacks for the first day of hiking. By the time you get to your stop for the night, the dinners are thawed and ready for the fire. Foil dinners can be as simple or exotic as you want to make them. We use chicken breasts or ground beef, with potatoes, onions, carrots, cauliflower, broccoli, mushrooms, etc, and add a touch of butter.
Make sure you thightly wrap the foil and we double wrap. Make sure there are no air leaks. The steam will cook the food. Put the foil dinners over hot coals for about 10 minutes per side, and let cool for another 5 - 10 minutes after carefully taking them off the fire.
The kids will love cooking there own dinner, and can't possibly complain about the chef....
August 12, 2017
0

found this helpful
We use to do the foil dinners but always had trouble with turning them or juices boiling out of them. Then we switched to aluminum disposable pans, using the small ones for individual tastes. We like hobo stew and put cut up steak, potatoes, carrots, onions, celery and mushrooms using whatever suits your taste and pour beef broth in for moisture.
Put on the grill over a hot campfire and you have a delicious dinner. The pans are much easier and safer to use than foil and economical when purchased at the dollar store.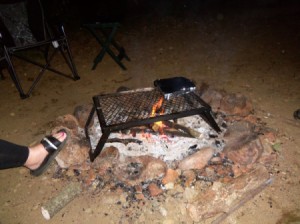 By Sharon. (Guest Post)
April 2, 2008
0

found this helpful
the most delicious potatoes I have ever tasted were simply scrubbed, buttered, wrapped in foil, and buried in the coals of the campfire before we went to bed. The next morning we dug them out, cut them into the pan with our eggs and breakfast meat, heated them up, and enjoyed a breakfast feast.
Those foil meals are also GREAT with salmon, potatoes, and carrots. Anyone who doesn't camp is missing a lot in our book. Enjoy and God Bless, Sharon
April 2, 2008
0

found this helpful
We made pizza like the gal above suggested. Store bought bread ,cooking spray for your iron and pizza sauce, toppings ,cheese etc. We also did a BBQ one with barbeque sauce, chicken, re onion and smoked gouda cheese, very good. For dessert use blueberry pie filling and a few marshmallows in white bread yum yum!!! We made all meals in the pie cookers for years tons of fun. On the Mississippi river camping on a sandbar we'd get out the cookers and invite everyone around us and have a blast!!! You can cook hamburgers sausage patties ham slices etc to use for other recipes or sandwiches very handy utensil for camping.
By (Guest Post)
April 2, 2008
0

found this helpful
All the links below are to PDF cookbooks for camping/dutch oven cooking. The last is for my Scout Troop's famous Beef Stew recipe.
Dutch Oven Cookbook:
www.mediafire.com/?mmxmpezcsyz
Geezer Cookbook:
www.mediafire.com/?htcl0o3xm7k
Philmont Cookbook:
www.mediafire.com/?jm1gmr3n3le
Troop 928 Cookbook (not my troop):
www.mediafire.com/?vmylecmbwd0
Troop 242 Hearty Beef Stew Recipe:
www.mediafire.com/?vrxjhtejojd
Remember when purchasing dutch ovens to buy ONLY CAST-IRON and make sure they have tripod legs and a rimmed lid so you can put embers on top to bake stuff inside. There's many other recipes I've got if you want some recipes for backpacking where you can't take cast iron cookware. One-pot meals are the best in those cases; it saves you from having to sump more than one pot. Enjoy! PMZ
April 2, 2008
0

found this helpful
We made "mountain pies" with p-nut butter and the jelly of your choice. Great for picky kiddos. You can make p-nu butter and choc chips for an awesome dessert for those chocolate peanut butter addicts out there....like me!!! Also, sliced deli ham and swiss cheese is great. We even have spread a little mustard between the ham and cheese....not on the bread though - too soggy. We haven't been camping in a while but we use the chimenea out back for our campfire.
April 3, 2008
0

found this helpful
When I was groing up we went camping alot. My dad made one of those tri-pods for cooking when we went camping. Now I am trying to talk my DH into making one, if he will only take some time away from his truck, he can have one made in no time.
By CrystalinWV (Guest Post)
April 4, 2008
0

found this helpful
Here are a few things we do when camping:
We make ahead some meals (like chili or stews) and freeze them in the metal coffee cans. Transport them to the camp site in a cooler. They can then go straight from the cooler to your campfire (reheat right in the metal coffee can). After dinner there is nothing to clean up as you can just toss the can away!
When we go camping with other families, we usually make a menu ahead of time and each night one family is responsible for cooking!
Just about anything you bake in the oven can be baked in a dutch oven! I love mine! Last time we went camping I made a wonderful coffee cake for breakfast - used a pre boxed cake mix (cinnamon swirl) and a can of apple pie filling. Poured the cake mix in first then the pie filling! Yummy!
By momandmurray (Guest Post)
June 7, 2008
0

found this helpful
S'mores are so over done according to our kids, so we have been doing banana boats as of late. Take a banana and unpeel one strip, do not remove. Make a cut down the length of the banana and slightly pull apart. Place mini marshmellows and chocolate chips in the slit. Fold peel back and wrap in foil. Place in the coals of the fire while you are eating your meal. When it is time for dessert, you will have an ooey gooey treat.
By Darlene (Guest Post)
June 11, 2008
0

found this helpful
Thanks for the Banana Boat recipe. It sure took me back though we made them in Girl Scouts when I was much younger. We won't go there. I remember they were delicious and I could not remember how to make them. Thank You again God Bless!