Most gardeners encounter pest problems at some point during the growing season. Organic gardeners "control" (within tolerable levels) these insect pests without the use of synthetic chemicals. Successful insect pest control, however, begins long before you spot the first leaf holes and slime trails. It starts with a good garden environment.
Build Healthy Soil
Healthy soil produces plants less susceptible to damage and disease. To provide good growing conditions, enrich your soil with organic compost and maintain the proper balance of nutrients necessary for optimal growth.
Start With Healthy Plants
Study catalogs and books to learn which cultivars are best adapted to your climate and growing conditions. Acquire your plants and seeds from a local, reputable source. The healthiest plants and seeds sometimes cost more initially, but the bargain plants become costly if they're unhealthy or harbor pests.
Water Wisely
Most plants suited to your region will come with a baseline tolerance for drought. Excess watering accelerates damage from insects and disease by providing pathogens with a vehicle to spread easily throughout your garden. A good rule of thumb for vegetables and flowers is one inch of water per week and a half inch for trees and shrubs.
Play Musical Crops
Keep good records and rotate your crops each year. Crop rotation helps maintain proper nutrient balance and avoids buildup of soil-dwelling pests and pathogens. Good notes also help you record what does and doesn't work in your garden.
Practice Interplanting
Planting large rows of similar plants (monoculture) is laying out a free buffet for insect pests. Plant groupings of similar plants in several different areas around the garden and leave ample room between rows to make host hopping more difficult.
Know Your Enemy
Learn about the types of insects your plants are susceptible to, their life cycle and the chemical-free options to control them. Most insects are beneficial to your garden-even critical to its success. You need to be able to identify the "good bugs" from the "bad bugs."
Encourage Backyard Biodiversity
Birds, bats, toads, snakes, lizards and predatory insects are your best allies to pest control. Make your garden environment attractive to them with diverse plantings and by providing the food, water and shelter they need to take up residency.
Plant Companions
Certain vegetables, herbs and flowers help each other repel pests. Plant corn near melons and squash to suppress melon flies. Mustard plants near cabbage help repel cabbageworms. Onions, garlic and strong smelling herbs like peppermint and spearmint curb insects as well.
Hand Picking
If your garden is small, consider removing pests by hand. Removing only a small amount of the offenders often keeps pests below damaging levels. Dispose of them in the garbage or put them in a jar with water and let them decompose. If similar pests reappear, set out the jar near the invaded plant and repel them with their own waste.
Easy Homemade Sprays
A spray bottle filled with Ivory dish soap (3-4 Tbsp per gal.) is safe for the environment and one of the most effective tools of pest control. Sprayed directly onto insects, it dislodges the pests and then smothers them. Make sure to rinse the plants off after a few hours to avoid burning the leaves. A strong spray of water from the garden hose works well, too.
Traps and Barricades
Snails and slugs (and some worms) dislike crossing anything with sharp edges. Create a ring barrier around plants with cat-food or tuna cans (opened at both ends), crushed eggshells, sand paper, thumbtacks or other sharp objects. Using wood ash or lime may alter the pH and nutrient balance of the soil. Other simple traps include inverted boards, seedling pots tipped on their sides (with drainage holes for entry) or shallow saucers filled with stale beer.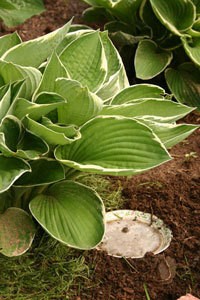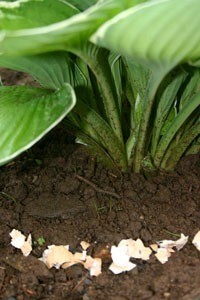 Commercially Supplied Predators
Certain insect predators, parasitic organisms and insect microbials (they make pests sick) can be obtained commercially. These vary in degrees of effectiveness and are often used with mixed results. Unnaturally tipping the predator balance in your favor can throw off the natural order of things and cause worse headaches in the future. Use care when introducing these immigrants into your garden ecosystem.
Above all, be patient and don't give up. Controlling pests without chemicals is an exercise in balance and one of the many joys of learning to gardening organically.