Need a purse? You can make one out of cardboard and duct tape. They are easy and cool!
Materials:
Duct tape (there are an array of colors available)
Ruler
Box cutter
Cardboard or tagboard
Writing utensil
Instructions
First you need to cut five pieces of cardboard/tagboard into the dimensions you want your purse. I cut the large sides 7x5 inches, the small sides 6x3 inches and the bottom 7x3 inches. The strap should be 2-3 inches wide and as long as you want it.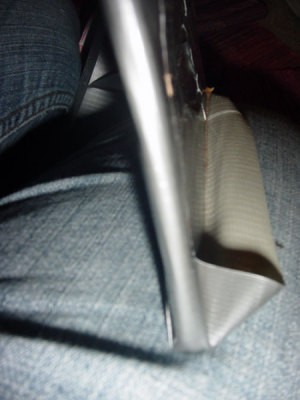 After each piece is cut out, you can cover them with duct tape. Try and keep the tape as flat as possible to avoid creases and air bubbles. On the edges, place the cardboard in the middle of the tape and fold the tape over on each side.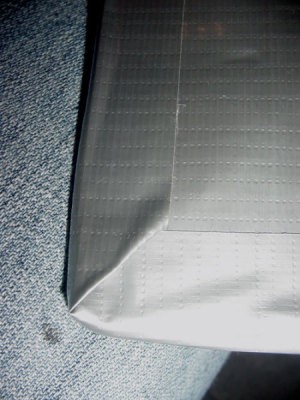 When you get to the corner, don't fold it until you go around the corner with the tape, then fold the sides down so the tape sticks to itself making a triangle. Then you can fold the other sides down.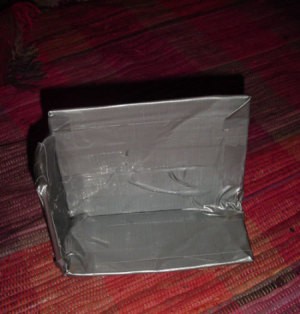 Once each piece is covered, you can start taping the sides together to form the purse.
Now you will have a box which is the main part of the purse.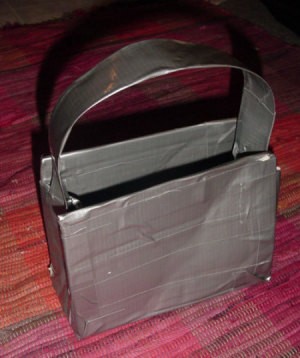 Strap
To make the strap, cut two pieces of tape as long as you want your strap, if you cut it too long you can always cut it down. Place the two pieces together with about 1/4 inch of sticky side offset on either side so you can fold those edges down. (This keeps the sticky edges from being exposed on the edge of the strap.) Now tape the strap to the your bag, make sure it is strong. You can attach a piece of tape to the strap and wrap it around the bottom of the bag and attach the end to the other side of the strap. Also tape the strap to the inside of the bag so it is extra strong.
Ways to make this purse even more stylish:
Use different colors of duck tape.
Add a fake flower.
Make a bow with the tape.