By DEBRADJ. (Guest Post)
July 31, 2008
0

found this helpful
How about some flowers or plants? They don't even have to be real. Hit the garage sales on the weekend and you can find tons of artificial plants and vases to put them in for under a buck. In your office, how about a family picture? Not a lot of photos, one or two. Find a nice painting or print at the thrift store or garage sale that you like and hang them up. Yes you want to look professional, but you also want to convey that you have a life and are human also. My office where I am typing this has pictures of my family and various things that give it my personality but is still a workplace.
July 31, 2008
0

found this helpful
What I did, was visit several area businesses and look at their decor. I REALLY liked the decor in the law office a couple of blocks away. It has medium grey walls, dark grey trim and woodwork, and burgundy colored furnishings (desk, chair upholstery, picture frames). The doors are painted burgundy. Bathroom fixtures are white, walls are the same as the rest of the office and there is art work in there with a burgundy frame, and a big, very clean mirror.
The lights are all pot lights with dimmer switches to dim each area. Simple and elegant, that's what I did with my office. It looks great.
Outside, river rock and pea gravel are classic, easy to maintain, and not really expensive. A few dwarf evergreens in planters by the door add a finishing touch. The best decorating tip is: sparkling clean and tidy always gives a good impression.
July 31, 2008
0

found this helpful
And I forgot to add, paint is cheap! And right now, you can get plants and rock on sale due to end of season prices. A coat of paint and coordinating picture frames work wonders!
July 31, 2008
0

found this helpful
Plants in planters spiff up an area. Even plastic 'trees' would look nice if tucked in corners. Sometimes they need to have additional lighting to bring them out. Pots with annual flowers out front (if permitted by the city) always look perky. A good coat of furniture wax helps to make the wood glow.
A more expensive touch is a custom striped awning.
There are some old businesses downtown that had a decorator do a little work and their very shabby outdated looks were quite spruced up by awnings in vertically striped white and black with matching paint on exterior walls. I tried to find a picture on the internet, but could not.
July 31, 2008
0

found this helpful
What's the business? That will help us creative people!
July 31, 2008
0

found this helpful
Keep it simple but welcoming.
The walls and flooring should be neutral colours then choose a couple of accent colours which are bold.
In the lobby area some comfortable seating- maybe a small sofa and some chairs in your accent colour. Say Red or blue, a nice strong colour. A glass coffee table with some magazines. One large pot plant and some nice framed art. No clock as anyone waiting will just clock-watch.
The office; clean and simple. Plants for oxygen to neutralise harmful emissions from computers and revitalise tired workers.
Pictures on the walls with your chosen accent colours incorporated. A small fountain placed somewhere. Refreshes the air and is soothing to listen to.
Alternatively use a small CD player that plays rainforest or ocean sounds. But of course, NOT if you are in telesales or another high pressure company where you don't want your employees relaxed.
It has been shown that workers who are allowed to personalise their little work stations work more effectively than those that don't so allow workers some free reign with that.
Smells are also important, buy some fragrant sprays. There are ones on auction sites that sell perfume oils. Ones like Apple pie, fresh coffee or ocean spray etc....choose ones that invigorate the senses.
(You need a spray bottle, water, some vodka and a few drops of essense, shake and you have a homemade air freshener).
Bathroom. Just clean and simple with a well stocked cupboard of essentials like toilet tissue and some feminine products (in case). Simple air freshener, a plant or two, and adequate washing facilities.
One office I worked in provided a hair dryer for workers who came in from the rain. That - to us- was lovely instead of sitting with damp hair for hours.
I wish you every success and please post again telling us what you decided to do - we would all be interested.
Best of luck,
Monique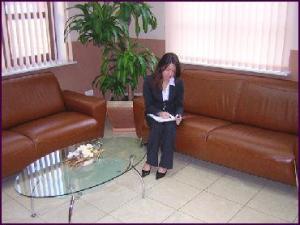 By (Guest Post)
August 3, 2008
0

found this helpful
Oh My! I am so sorry it has taken me so long to reply to all of you. This was my first post, and I thought it never made it to the internet. Sorry once again. But the business is a dance studio! We offer other classes in the fine arts too, but not on a regular basis. My challenge is we have lots of boy dancers, so the decorating can't be to "girly". It is in an older run down building in the less wealthy area of town.
The business was located in another town for over 30 years, and this is our second location. We offer quality education and kids love us. The image of this area of town is looked down upon so we are trying to up that image. We also have other studios in the area that are in the "nice" buildings and using it against us. So even though the dance education isn't quality, people like the nice looking things! Please help us! Thanks for the the advice so far.