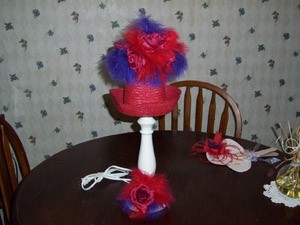 I went to my local favorite thrift store shopping and picked up this lamp. The shade was already shaped like a hat. I painted the shade red and trimmed it with some red and purple feather boas. I put 3 silk flowers around the top of the hat and one at the bottom. It was given away for the door prize at my local Red Hat group on National Red Hat day.
By Sue Hinely from Ludowici, GA
Read More

Comments
I have 2 lamp shades that I want to fix up. Can you paint them or put fabric on them? Do you have any ideas for me?
Thank you.
June

Answers

May 31, 2005
0

found this helpful
You can definitely recover them. I've used a hot glue gun to do it before and just make sure that no material will be anywhere near the bulb. You should be fine! I've also found that putting some sort of decorative cording around the edge helps to make a more "finished" look and hide some of the seams. Good Luck!!
By (Guest Post)
May 31, 2005
0

found this helpful
Use fabric a little longer and wider than shade. Hem both top and bottom making hem wide enough to put elastic thru. Presto you have a new covering for an old lampshade.
I have done this and gotten complements on my new lamp. Have fun!!!!!!!!!!!

June 1, 2005
0

found this helpful
I saw a real cute way to decorate lamp shades on HGTV - hot glue silk flowers all over the shade until completely full then attach some cord with hot glue around the bottom of the shade. Use your imagination - There are endless possiblities. Use the hot glue gun to put a favorite fabric on. Add beads, crystals- buttons - for a kids room you could hot glue those famous magnet alaphabet letters. P.S. when doing the silk flowers you might want to mildly cover the shade with fake moss - sold at any craft store with your hot glue gun first.
Look at your craft store for tons of things you can add to your shade - look in the scrapbooking section to for ideas. Now you have me wanting to redo some lamps. I even took a clearanced out lace curtain panel and draped it on top of a old ugly 70's lamp - you know the kind with the bottom light that is orange and tied the curtain close to the bottom with a gorgeous ribbon.
By Claudia (Guest Post)
June 1, 2005
0

found this helpful
I haven't had great luck painting lampshades- when the light is on the paint looks uneven and yucky. I have used my trusty glue gun to add ribbon, seam tape, and beaded fringe to the edges to make a plain lampshade a little more interesting. You might try gluing on wallpaper (I buy full or partial rolls at the thrift store for a dollar or two) or try contact paper. If you cover with fabric, you will probably need to add something on the edges to cover any fraying.
By Barb (Guest Post)
June 2, 2005
0

found this helpful
I've successfully painted a lampshade. I had a lamp with a white fabric shade that didn't work with the new decor in my office. So I found a shade of inexpensive acrylic paint from the craft store that I liked. I watered it down (about 1/2 water, 1/2 paint) and mixed it really well. Then I used a sponge applicator brush and lightly brushed it on the shade.
When it dried, I noticed that the new color didn't look even on the inside of the shade, so I painted it with the same watered-down paint. When it was completely, dry, I hot-glued some eyelash fringe trim around the top and bottom, and WOW! It looks great, just like something from a designer magazine!

September 12, 2007
0

found this helpful
these are great ideas i have all the materials to recover my daughters shade except the bottom rim (circle looking thing)is missing can i get by without the ring i would like to glue fringe or something around the bottom can i make a ring and attach it
By grandma viv (Guest Post)
June 5, 2008
0

found this helpful
AS for the person who states that painting her lampshade by diluting the paint with equal amounts of water, and painting the shade twice, that is the technique that I was going to do however; after reading about the person who painted her shade and it turned out "yucky" due to visual strokes of paint..... did she dilute the paint or just used full strength. so to speak?
Please respond asap as I must do this task soon.
Thanks
Answer

this Question