July 23, 2009
0

found this helpful
Sounds great! I'd love to see an example. Do you have pics?

Cyinda
Bronze Post Medal for All Time! 213 Posts
July 23, 2009
0

found this helpful
A dress: A summer dress can also be made in the exact same way. Just make it a little narrower. Wear the elastic (waistband) just under the armpits & above the breasts. To wear a bra with it just add 2 straps that are about an inch wide to cover your bra straps. To make it more formfitting, you can make a matching belt or add a store bought one, but there's nothing like a loose-fitting 100% cotton dress to wear around the house on a hot day!
*Fabric: These skirts & dresses look best made with cotton gauze fabric. Then there's no ironing involved, you just twist the wet fabric after washing then tie the twisted skirt into a loose knot to dry (like with a "broom stick" skirt).
Double Folded Gauze: To thicken the gauze fabric (so you can't see through it) you can simply fold the fabric in half. Fold it unevenly, keeping the under-fabric about 6 to 10 inches longer than the upper-fabric for kind of a "ruffle" type look. Stitch the folded area about an inch from the fold & insert the elastic into the fold with a safety pin. If you do this with the selvages on the ends (& the selvages look nice) you can get away without hemming it! You can "fancy it up" by covering the selvages (or the hem) with the thicker black hemming lace around both the top & the bottom layers. Now all you have to do is sew one seam! Do it so the top part is not caught up in the bottom folded piece of fabric for a better looking skirt (or dress).
This "Folded Gauze Uneven Skirt" takes about half the time of the regular shirt & no slip is required! I made one in black & it looks so nice that no one will know you made it yourself! I always get lots of complements on mine! It looks great with a black tank top! If you like to tuck your tops in, you can make a matching tie-belt or you can use any store-bought black belt. Me? I like the comfort of wearing no belt. Besides the black gauze skirt, I also made several others in gauze like this, a dark pink one & also one in a striped navy gauze. You can't beat these for comfort & with a classy top, they're also nice enough to wear to work!

July 24, 2009
0

found this helpful
I would love to see what it looks like. I am a little confused on your directions about the "width" of the fabric. If you could explain that -the length part is easy to figure out. Thanks tupelhoney17 AT hotmail.com

July 24, 2009
0

found this helpful
It's really neat to use old vintage printed bed sheets from a thrift store to do this with too. They are cute, unique and CHEAP! You can find vintage bedsheets for $0.50 sometimes, and they are so cute if you can find patterns you like.
I really really want to find one that's an '80s star wars design and make a skirt with that, I think it would be awesome!

July 24, 2009
0

found this helpful
Oh wow! I am in the middle of making my first dress from a pattern. This sounds a lot easier. I only wear dresses or skirts, so I am always in the market for unusual looking items. Please send a pick or the skirt and the dress.

July 24, 2009
0

found this helpful
You'll need to add 2 inches to the width to get it over your hips. :-)

July 24, 2009
0

found this helpful
Sorry to confuss anyone. I measured my hips and added two inches or more to get fullness for fit. In the green print skirt I used the width (about 45") of my fabric for the front panel and another width of the fabric for the back. I love this skirt but I thought it was a bit too full, so I used a measurement much closer to my hips +2" for the next skirt.
I also made this one longer and added a different fabric for the bottom of the skirt, plus a little vintage lace for fun.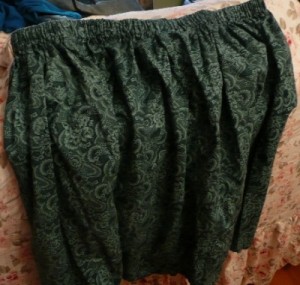 July 24, 2009
0

found this helpful
Here is the other skirt since I couldn't post them both at the same time.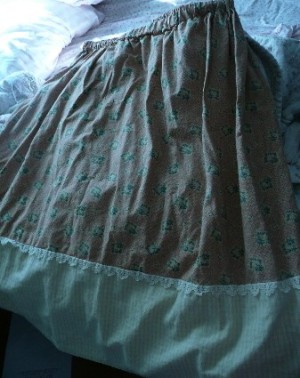 Cyinda
Bronze Post Medal for All Time! 213 Posts
July 24, 2009
0

found this helpful
For all you guys asking directions about how wide to make the skirt. When making anything gathered the basic rule of thumb is use one & a half to double the width. So that would be one & a half to double the waistband measurements. But if you don't want a full skirt, all you need is enough fabric to go around your hips plus 2 inches for seam allowance. As far as length, make the skirt as long or as short as you like. Hope this helps!
When Karen is talking about the "Width" she's talking about the width of the fabric as it comes off the bolt. which is usually 45 inches, but it sometimes can vary to 60 - 72 inches. But I bet she's talking about the most common which is a 45 inch wide piece of fabric.
* If you're sewing with gauze you'll want the crinkles to go up & down vertically, so make adjustments on which way you cut to accommodate the crinkles being vertical. If you're lucky enough to find a nice border-print, the border usually goes along the hem, but it can also go up a slit in the side or the back of the skirt.

July 27, 2009
0

found this helpful
You might also try this. Before threading the elastic through the casing; sew a small square of fabric to one end of the elastic. With this done, you can then run the elastic through and no worries about the tail since the fabric keeps it at the end of the casing. Now, once you get this done, don't cut off the fabric;bring the elastic end which you've used to thread through the skirt casing, sew it onto the square right up against the tail. Cut the excess fabric off and wa la no bumps in the casing where the ends meet! Who needs a pattern for such! LOL