By guest (Guest Post)
September 21, 2006
0

found this helpful
Oh How regal and beautiful he is . Also I am amused by his name, quite unique
September 21, 2006
0

found this helpful
why did he have to have his teeth removed? i am curious because one of my cats has fangs, literally teeth that hang out of his mouth when it is closed and the worst breath of any cat i have ever had in my whole life
cinnamon
By guest (Guest Post)
October 4, 2006
0

found this helpful
Glad to hear that Lurch is doing well, even though he has had all his teeth removed. It is a tough thing to have to do.
Alexander, my Maine Coon, bought from a breeder in Massachusetts, has stomatitis, which it sounds like Lurch has. We've been fortunate in keeping it at bay, with a couple dentals and daily brushing and enzyme rinse. I let my breeder know, and she will not breed the parent's together again. I thought he was just teething and at 5 months he was dx'd with stomatitis. He also developed mast cell between his toes, at 7 months. He is now 2 years old and doing well.
I have to agree with you, Maine Coons are the best! They are lovable, inquisitive, clowns, and don't you just love their *chirrup* instead of a meow?
July 25, 2007
0

found this helpful
Hi... I am Maddie Mingletoes' mom, lol. thank you for the feedback on Maddie. The older she gets... she is a stinker... always following me, grabbing my legs when i walk, waiting for me to go to bed, sleeping above my head on my pillow.(We just love her!!!) I do have a question... Do you bathe Lurch? I saw his pic on here, he is beautiful... I read somewhere that I have to bathe her due to her hair seperating under her neck... please let me know, also, she has some stinky kitty breath... you said that is due to the breed? Thanks, Dee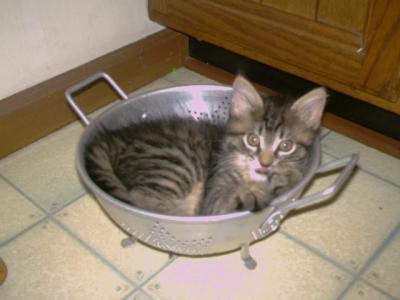 June 19, 2010
0

found this helpful
This is our newest family member, Gracie whom is clearly Maine Coon. She has very distinct and proportionate markings. By the "grace of god" we did not have to pay for such a beautiful kitten, she was abandoned in a tree line by our apartment complex. Our heartbroken daughter who lost her 2 cats due to a family move, has now had every part of her heart restored last evening. Hence the name Gracie, lol, plus she is very very grey.