May 11, 2010
0

found this helpful
taupe, grey, or plum
May 11, 2010
0

found this helpful
and golden
May 12, 2010
0

found this helpful
Prints hide dirt the best. What about a print with some burgundy, white and other medium to dark colors? Or burgundy stripes? I have seen burgundy/white checked material too. If you don't want burgundy, what about blue, maybe royal blue or a blue print.
May 13, 2010
0

found this helpful
When using color, remember to use a color wheel. I am including a photo of one. Here is how it is used. Look straight across from the color that you have in your kitchen and chose a shade. Or you can do what is called a triangle.
www.worqx.com/.../color_wheel.htm
Colors that are in the triangle go together. Or shades next to each other on either side look nice.

If you are looking for fabric, try the outdoor fabrics on the market. I they can hold up to weather, they can hold up to your grandchildren. Another thought is slip covering the seating so you can wash them.
I would suggest keeping it light since burgundy is a dark color. A room that is too dark will not make a happy cook. :)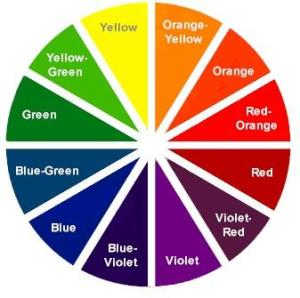 May 13, 2010
0

found this helpful
A burgundy and white
checkered upholstery would look great.
May 13, 2010
0

found this helpful
I agree with perfume and powder (557)
Taupe
Earth colors hide dirt and they are calming to people/children

May 13, 2010
0

found this helpful
A plaid of navy and some lighter color for contrast - camel, grey, taupe, or even winter white will not be too dull but will stand up to grandkids' spills. The slipcover idea is great if you are talking about nook cushions.