Selecting High-Quality Corn:
Corn should be harvested for freezing in the "milk stage" (as soon as the kernels are full of sweet, milky-colored juice). If the fluid in the kernels is clear, the corn is not ready yet. Try to process the corn a quickly as possible after harvest, before its natural sugars start turning to starch. Purchased corn should be kept refrigerated while being sold, if it's not, reduce storage time accordingly. Husks should be green, silks should be moist and gold and the kernels should be packed in tight, even rows.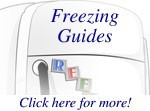 Preparing for Freezing:
Husk and trim the ears, remove silks and wash. Sort according to size. Cobs should be pierced lengthwise in the center with a sharp knife. If freezing kernels, remove them from cobs.
Corn-On-The-Cob:
Blanched: Clean and prepare cobs. Water-blanch small ears (1 1/4 inches or less in diameter) for 7 minutes, medium ear for 9 minutes, and larger ears (over 1 1/2 inches in diameter) for 11 minutes. Cool promptly and drain. Transfer to suitable containers, seal and freeze.
Unblanched: This is the easiest and fastest way to freeze corn-on-the-cob. Leaves husks on the cobs. Place the ears in a single layer on trays and cookie sheets or just place them directly in the freezer in a single layer. Freeze until firm (48 hours) and place them in large freezer-grade plastic bags for long-term freezing.
Boilable Bags: Clean and husk cobs and pack them in boilable bags. Add seasonings if desired, press out air and seal. Blanch bags for 5 minutes on either side. Cool immediately, pat bags dry and freeze.
Whole Kernel Corn:
Boilable Bags: Remove kernels from cob. Pack in boilable bags, add desired seasoning, press out air and seal. Blanch in boiling water for 6 minutes. Cool immediately, pat dry bags and freeze.
Dry Packs-Water: blanch cobs for 4 to 6 minutes. Cool, drain and remove kernels from cob. Package in suitable containers for freezing, leaving 1/2 inch of headspace. Seal and freeze.
Cream Style Corn:
Blanched: Husk and prepare cobs. Blanch for 4 minutes, cool promptly and drain. Remove kernels from cobs by cutting down through the center of the kernels and scraping the cobs with a knife to remove the juice and hearts from the kernels. Do this over a large kettle. Remove any remaining corn on the cob. Plunge the kettle into a sink filled with ice water and stir to cool. Package, leaving 1/2 inch of headspace, seal and freeze.
Unblanched: Husk and prepare cobs. Remove kernels from cobs without blanching by scraping them into a double boiler. Heat for 8 to 10 minutes, or until corn thickens. Stir constantly. Place pan in sink filled with ice water to cool. Package, leaving 1/2 inch of headspace, seal and freeze.
Suitable Packaging:
Freezer containers should be moisture and vapor resistant and should not be prone to cracking or breaking at low temperatures. Containers should provide protection against absorbing flavors or odors and should be easy to label. Suitable packaging for freezing corn includes freezer-grade plastic bags, rigid plastic containers or glass containers and heavy-duty aluminum foil.
Maximum Storage Time:
10 to 12 months at 0ºF.
Thawing:
To remove frozen cobs with husks, run them under cold water.
Tips & Shortcuts:
To cook frozen cream-style corn, add a small amount of milk or light cream, salt, pepper and a 1/2 tablespoon of butter.
Refrigerating Corn:
Keep corn in the refrigerator in perforated plastic bags for 1 to 2 days.