December 10, 2005
0

found this helpful
I have tried in the past to put new caulk over the old and it just doesn't stick! I have found though if you get a thinner putty knife like a thin flexiable metal one it makes taking of the old caulk a much easier process. Also when you buy your new caulk opt for the bathroom caulk and use a very high grade the extra $2.00 will last you 3 times as long! Good Luck!
By Carol (Guest Post)
December 10, 2005
0

found this helpful
Be sure to buy the kind of caulk that is mold and mildew resistant. I have tried putting bathroom caulk over an area that had mildewed before, but it comes through a second time. This time when I do it I am going to be sure to use mildew removing spray cleaner on the area before I apply the new caulking...
I'll have to let it dry thoroughly. maybe someone will make another post that can help us both... Keep your fingers crossed.
By dean (Guest Post)
December 10, 2005
0

found this helpful
You should remove all the old caulking and treat the area for mold with a solution of bleach and water.When dry apply a new bead of cauking.To prevent this from happening. In the future all one has to do is wipe down the entire wall after each shower or bath.For years I have wiped down the area from the top of the wall to the bottom of the shower and have no problem with mold or replacing cauking.
By C R (Guest Post)
May 11, 2007
0

found this helpful
Has anyone used the caulk strips? How did they do?
By ongiornob (Guest Post)
September 24, 2007
0

found this helpful
I had a school construction worker recommend using a caulk for windows and door application for use around bath tubs and sinks.
The reason being it is water proof and weather resistant.
the replaced caulk has stayed mold proof and bright white.
By Liz (Guest Post)
November 24, 2007
0

found this helpful
I needed to replace old caulk (due to mildew and cracks) around my metal tub with tiled shower. When I started removing the old caulk up the tiled corners, I got a little more than I think I should have! It looks like the grout was 'cracked' as well. What do I need to do? Do I just fill the space with more caulk? Will the tiles still hold? Help!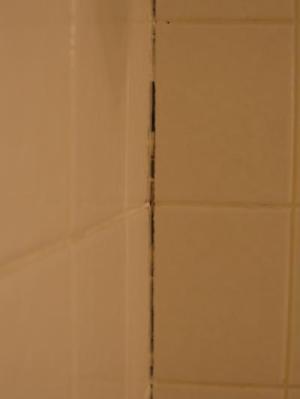 By Sanjeer Singh (Guest Post)
July 14, 2008
1

found this helpful
Use silicone, not caulk. There is no such things as "Mildew-proof" caulk. No one even advertises that any more because of the lawsuits regarding mold.
Mold can feed on caulk. That's why mold grows back through the caulk if you apply new caulking to spotty mold-infected remnant caulking. However, mold cannot feed on silicone. The low-odor silicone is NOT a good candidate. Use the standard high-quality stuff because it is more robust and does not peel.