Laying Tile Around a Toilet?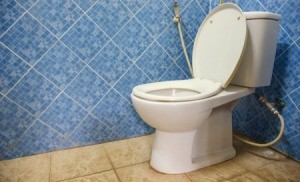 I am getting ready to install thick peel and stick tiles in my powder room over the existing thin peel and stick tiles. Do I need to remove the toilet before or just make a template and cut the tiles to fit around the toilet?

Answers
September 21, 2008
0

found this helpful
The correct way would be to remove the toilet and tile clear up around the flange. But it is possible to just tile around the toilet. You'd need to caulk around the bottom of it, though.
September 21, 2008
0

found this helpful
If it is possible, I would remove the toilet first. It just makes for a cleaner look. However, making a template and going around is fine, too (because if you remove the toilet, you'll have to buy a new gasket before you put it back). Be sure to run a bead of caulk around the toilet and floor to finish it off. That will hide any rough cutting you may have done.Good luck!
By (Guest Post)
September 21, 2008
0

found this helpful
I agree about not taking up the toilet. Sometimes you break the seal of the toilet and it can start to leak. That can be a real problem if this is an upstairs bathroom - it will leak through the ceiling. We had this happen when the previous owners did this right before we moved. So please be careful. We had to have a plumber come in and redo the toilet seal. It was not cheap.
September 21, 2008
0

found this helpful
If you were installing ceramic tiles, Id'd tell you to remove the toilet first, but since they are peal & stick tiles, you can do without, but it's a bit tricky... But, then, removing the toilet is even tricker!
* To cut your peal & stick tiles. Use an exacto or carpet knife or even scissors. I used a sharp pruner (for the garden) that I bought at a dollar store to cut out my peal & stick tiles for the curved cuts & a metal ruler with a carpet blade for straight cuts, just pre-score them, then hold them over a strait edge (like a counter top) then give them a good *SNAP*!... it worked great for me... But, since I was using peal & stick tiles from the dollar store, I found I needed extra glue to hold them up... Make sure you get every bit of dirt & grease up from the floor before you put them down... Then wipe the area down with Rubbing Alcohol right before you set them. If your tiles don't want to stick in places, heat them up with a heat gun or blow dryer... This heats up the glue... They will be a bit warm, so set a towel on them, then rub it back & forth while pushing down on the tile... This heat-sets the tiles that come back up. If you set a tile wrong & need to get it back up, the heat trick also works for that too.
September 22, 2008
0

found this helpful
Does doing this a few times make us experts? Esp when we work through the flaws?
Remove the toilet, not a big deal. The bolts at the back of the toilet on the floor should be checked occ. anyway. If you haven't, good time to change the copper water pipes behind the toilet to flex/fiberglass ones. Just unskrew and replace.
Lifting the toilet means buying a $5 wax ring to put back down. Thing is, there are 2 sizes, make sure you measure and get the right one. Best to get one of each size, return which you don't need. We do projects on holidays, evenings, hard to find supplies when you need them SO I do stock up on essentials (esp toilet parts!)
Back to the floor. Remove what tile you can to get a better seal when putting the toilet back down. Whether vinyl flooring or tile, the less on the floor the better. It also lets you look at the condition of the wooden floor around the toilet.
(Yes, leaks spring there, better to find it rather than come through the ceiling with a WHOOPS like me. The water line to the sink from the far wall sprung a leak and got me a new floor, wood and all. Next one about 15 years down the line had a leak under the toilet flange.)
So checking will save messes--by the way, insurance (SF) did not cover the mess as we went from the site of the bathroom rather than tear out the kitchen cupboards and ceiling to get to the mess from below.
So, if you can check your floor, remove as much tile as possible, get a good seal (can't reuse the seal once toilet is lifted so if you skrew up, you must buy another too) and have a happy week.
By Donna J. Cole (Guest Post)
September 22, 2008
0

found this helpful
No you don't have to remove the toilet. Take cardboard or heavy paper the length of the tile you are going to use. Very carefully mark and cut it to fit the stool. Paper works good cause you can crease it to fit, then make the pattern. You can do it! Good luck.
September 22, 2008
0

found this helpful
Taking off a toilet is not difficult or complicated at all. Undo four bolts, turn off the water and flush twice, lift it up and then when you put it back on, put the new wax ring on it first. Ta-da! Someday you'll be glad you did when you have to get a new toilet and can't find one with exactly that floor shape!
By Debbie Jo (Guest Post)
October 7, 2008
0

found this helpful
Be sure to buy some pre-treatment for the floor before laying the self stick tiles. They will stick much better. This can be found in the same isle as the self-stick tiles at any home improvement store. Good Luck.
Answer

this Question
Published by ThriftyFun.
© 1997-2021 by Cumuli, Inc. All Rights Reserved.
https://www.thriftyfun.com/Laying-Tile-Around-a-Toilet.html