July 26, 2010
0

found this helpful
Best Answer
My mother never used a boiling water bath for pickles. To start with the liquid you use for the pickles will be really hot, and you basically follow the directions that you do for any canning project. When you get done filling the jar, wipe the edge off with a damp rag, then place a lid on the rim of the jar, and then screw the band on and it should seal perfectly fine. Also make sure there aren't any nicks in the rim of the jar. When I did a lot of canning I always left the bands on the sealed jars, no matter what I canned. I always felt more secure doing that than removing the bands and using them on something else. You end up spending more for the bands the first year that you can, but when you open a jar you can wash the band and reuse at a later date. I always wanted to make sure that some how or another the lid wouldn't come loose and fall off the product.
July 27, 2010
0

found this helpful
Best Answer
Hi, I use a friend's recipe called Sunshine Dills. I have shared the recipe with many and all have loved them. These don't seal so you have to keep them in the fridge. We have an old one in the garage that I use just for extra garden produce and pickles. You can use gallon jars to pints, any glass with a lid will work. Bring 6 1/2 cups white vinegar, 4 1/2 cups water, 1/4 cup canning salt, and 1 1/2 tablespoons alum to a boil, then let it cool. In the meantime, pick your cucumbers and use them soon after picking, the sooner the better. For a pint jar, I split one large head of dill in three or four pieces and use two for each pint, one in the bottom of the jar and one at the top.
Put one clove of garlic in the bottom and fill tightly with cucumbers then add another clove of garlic and another piece of the fresh dill. If you are making a gallon I use 6 heads of dill and at least 6 cloves of garlic. The brine recipe I have listed will do a gallon. I make the whole recipe even if making a pint at a time and keep it for the next time. When you have your ingredients all in the jars, fill within 1/4 inch with your cooled brine (it doesn't have to be cooled but the recipe calls for it to be), put on your flats and rings and set out in the sun for three days, bring in and enjoy. If it's cloudy, don't worry, it will still work. Remember they don't seal so refrigerate them.
If my cucumbers get ahead of me, I slice them lengthwise and add another tablespoon of alum to the brine and they are nice and crisp for sandwiches. You can use the same brine for other vegetables as well. Carrots and beans need to be cooked some before sealing up. Koli-rabi is delicious this way, add a piece of green pepper to the jar, mmmm!
Good luck.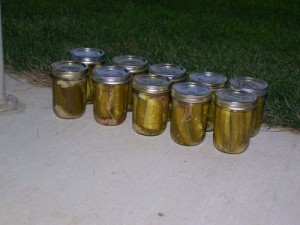 July 27, 2010
0

found this helpful
Best Answer
I use my mothers recipe for Sunshine Pickles. This year was bitter sweet, mother died this past summer. Mother never used a water bath either. It is very much like latrtatr's recipe. But, you do not have to keep them in the firdge! I have two recipes in fact.
Mothers was:
2 qt. water
1 qt. white vinegar,
1 cup salt
fresh dill
fresh cloves garlic
Cleaned quart-size wide mouth jars and lids with rings
Wash cukes well removing blossom ends and any stem. (Really big cukes I cut into spears, or you can cut into rounds.) I clean my jars well, and place in boiling water to be sure they are sanitized.
Heat vinegar, salt and water until salt is dissolved.(Depending what kind of salt you use you can cut way back on the salt, I usually use 1/2 the salt called for) Place 1-2 cloves of garlic and sprigs of dill in each jar. Pack in cuc's to fill jars. Pour warm vinegar over the cukes covering the cukes. Wipe jar rims and place lids and seals to hand tight. Place jars outside, in a sunny location for 7 Days!
The other recipe I have is the same except it is 3 c. water to 1 c. vinegar. I prefer the one my mother used.
I hope this works for you. My husband loves these pickles. The hardest part is keeping him out of them for the 7 days in the sun. The jar will seal, you can hear them pop when the sun is really out and on the jars. Good luck!
July 27, 2010
0

found this helpful
Important to have cukes at room temp and lids and jars are hot. All jars should be filled before adding very hot liquid. Add a grape leaf to each jar. Helps keep cukes bright green color, can also add garlic clove, yummy.