Stryker was a 7 year old Wolf/Husky. My daughter needed a soul mate and, in AZ, there came this glorious wolf/dog who understood her. He was there before her marriage and children, and she understood him just as well. At some point someone who had owned Stryker had abused him; using him for dog fighting. My daughter knew his pain and tamed him with her love.
He was there when Ricky was born, and there when Nathan was born. As toddlers and little boys, they sat on him, pulled his huge bushy tail, and laid on top of him. He never once bit them.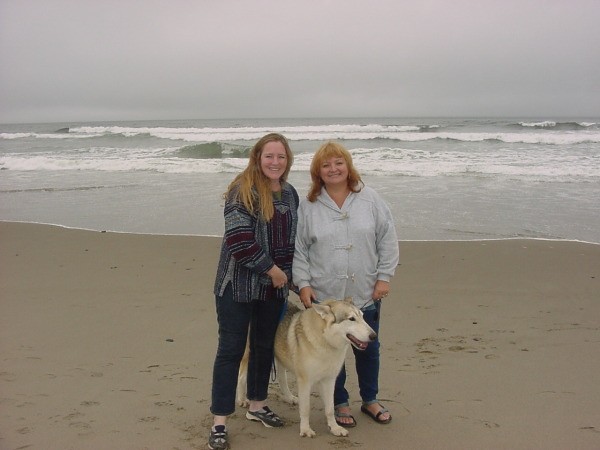 Stryker knew how to speak, and say "I'm Hungry" in a deep wolf voice. And he could say "Mama". He would say about anything for a piece of cheese. And if you mentioned a walk, you better spell it out, because he wouldn't stop bugging you until you took him for the walk. He loves cheese and to down to the creek and eat mud.
When I met him, he growled at me like a wolf. I spoke gently to him. My daughter said, "Stryker, this is Gramma!" He loved me from that point on. When I was bending over that first day, he got behind me and pinched my butt playfully. He never hurt me or broke skin. After he pinched my butt, he took off racing around in circles and had this huge grin on his face.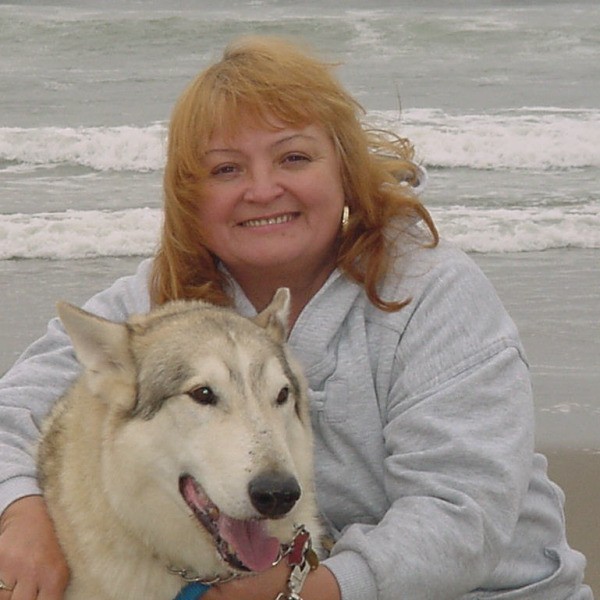 My daughter's family moved from Arizona, to Oregon on a tree farm. It was then that he thought he had gone to heaven. He liked to pee on trees on the Christmas Tree farm, and to help keep the coyotes and the deer away. Christmas trees all over the nation had Stryker's scent on them, because he thought it was his solemn duty to mark as many as he could.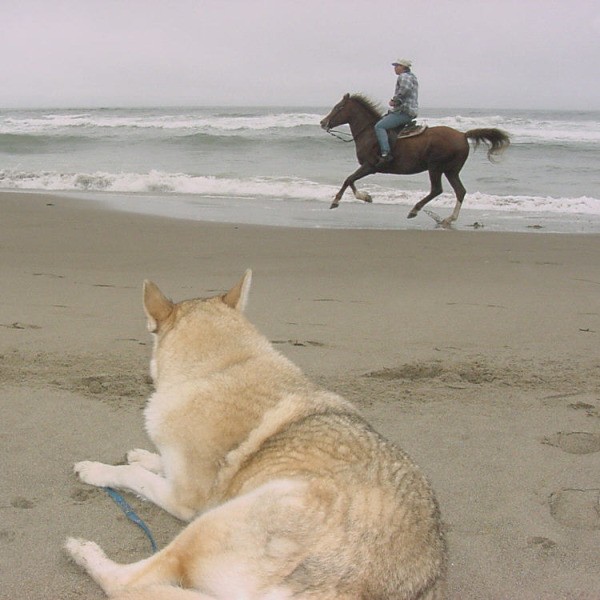 This photo was taken on the last month of his life. We drove an hour to the ocean. He was sick. but even then he was a magnificent looking animal. He laid down on the beach, and this horse and rider went by. I was fortunate enough to get this photo. What a memory! I have another photo of him in the car, smiling on the way to the ocean. He was so happy that day! He was magnificent and a wonder family member, a wolf/dog!
By Songbirdcindy from Oregon Coast