Princess Angel (my daughter named her) is 5 months old and I think she is Japanese Bobtail and Siamese.
My dad has a full blooded Japanese bobtail, he got out of the house and now I have one of her kittens. Out of a litter of 5 only one had a tail.
She plays with my other 2 cats and loves my daughters. Paige (in photo, 4) and Kayli (not pictured) 3. She loves being treated like a real baby.
She is Spoiled Rotten. She is a DIVA kitty!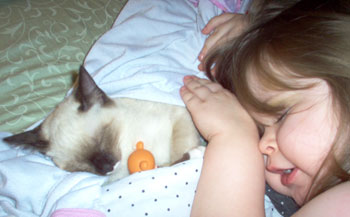 By Melissa from Madison, MS