I have a good friend who will be having a birthday soon. I enjoy making little handmade gifts, trying to come up with ideas that relate to the person who will receive it. This friend loves to sew and quilt and I wanted a small item to put on top of the wrapped gift.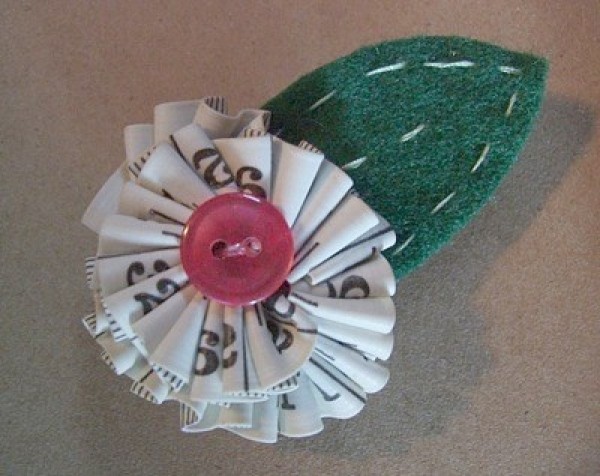 Approximate Time: 45 minutes
Supplies:
cloth or vinyl measuring tape
clear nylon sewing thread
small piece of green felt
button
magnet or pin back
small circle of cardboard
hot glue gun
Instructions:
My flower was made with about 3/4 of a vinyl tape measure. I used nylon thread because it is stronger and enabled me to pull the thread to gather the tape without breaking.
Make a running stitch along one edge of entire length of tape about 3/4 of the way down. The longer your piece of tape, the more your flower will spiral. Gather tape by pulling thread and allowing tape to "bunch" up.
Build your flower by wrapping tape around in circle form and when pleased with look, make stitches on the underside from row to row to secure and hold flower together.
Either sew on or glue button to center.
Cut a leaf shape from green felt and glue to bottom of flower.
Cut circle from cardboard and glue to bottom over leaf. You can cover cardboard circle with a piece of felt, if desired.
Glue magnet or pin back on.
I also made this card for her. I drew a sewing machine and roughly stitched "Happy Birthday" onto a small piece of material. I then glued it onto card in a way that makes it look like the machine had sewed it.
I cut a plastic spool in half (the ones that come in mini sewing travel kits), wrapped thread around it and glued that on top of the machine. Then I glued a button on each corner of the card. Inside the card, it reads, "A day hemmed in prayer seldom unravels."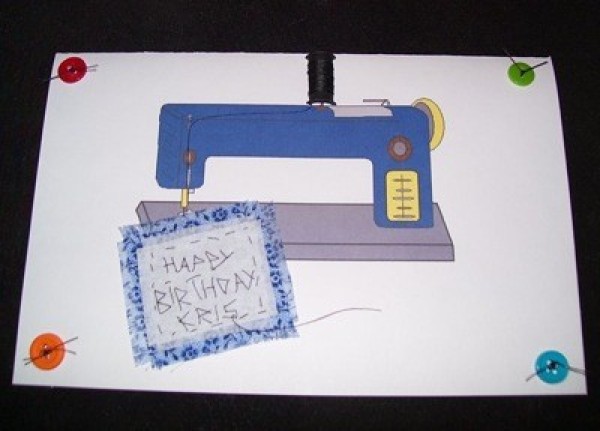 I found this cute pin cushion in a thrift store and knew it was the perfect gift for her. It was still in it's original package. What a treasure!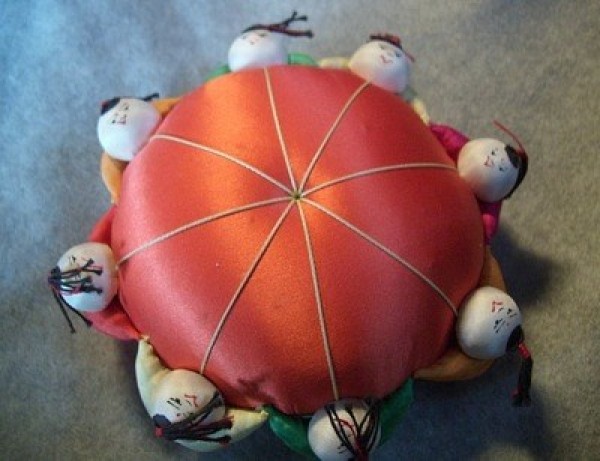 By Mary from Palm Coast, FL