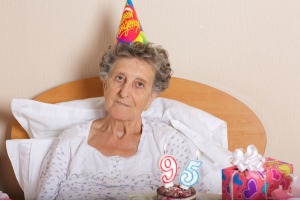 I'm looking for ideas for my mom's 95th birthday party in August 2008. The party will be in the fellowship hall at her church. There will be approx. 80 people.
Jean from Virginia
Answers

May 1, 2008
0

found this helpful
Best Answer
Have everyone bring (or send ahead of time) memories and photos about your mother. Assemble a scrapbook at the party.
Other than that, have elegant yet simple, vintage tablecloths and vases with fresh flowers (preferably from someone's garden). Maybe also use fresh produce from friend's gardens.
Have a potluck with favorite old recipes which they should bring and include in scrapbook.
You could also ask each family member or guest for a quilt square (could be as simple as permanent marker on white cotton square).
Don't forget to have her favorite music. The theme could be "Memories and Blessings"
By Lois (Guest Post)
May 2, 2008
0

found this helpful
Best Answer
For my Mother`s 95th birthday party we took digital pictures of her and made 50 copies on the computer. We gave her stamps and she sent them out to her 50 descendents in her Christmas cards.
She loved the idea. She was the star of the show and did not do any Christmas shopping.
You could ask each guest to bring one beautiful flower. She would have a nice bouquet.
By Aubrey from Maui (Guest Post)
May 9, 2008
0

found this helpful
Best Answer
Not sure if you're familiar with Shutterfly, but I thought it might be nice to gather photos of your mother throughout the years and print poster sized photos to be displayed in the hall. Shutterfly will ship the poster sized photos to you at a fairly reasonable price (www.shutterfly.com)
Also, you could use a "Fruit of the Spirit" theme and make fruit basket centerpieces labeled with "joy" "peace" "longsuffering" etc.
Answer

this Question

My mom is in a nursing home. She has dementia. We do a small party for her every year. However, this year it will be her 95th. We want to have a theme, do party favors, etc.
The cake we always have made is low sugar due to diabetic folks there. Any ideas out there for a theme? party favors? anything?
Answers

Judy
Gold Post Medal for All Time! 677 Posts
August 17, 2017
0

found this helpful
I would have a low-key party. I would bring things that gave her pleasure in her younger years, such as special food, photos or music. Try to avoid photos of people who have passed away.

August 17, 2017
0

found this helpful
Why not give her a party with the music of her time, and have special things around that she had at that time. See if you would be able to make any special foods she liked at that time, any pastries like cake and cookies and if you can find it candy of her time, if you can't try making homemade fudge.
If you decorate for the party why not do it in her favorite colors.

August 17, 2017
0

found this helpful
Seems like anything from the past that is available would be very good although she may not remember everything it is possible things from the past would be more pleasant to her.
Since she is in a nursing home I'm sure smaller things would be easier to deal with so maybe several people could dress in old style clothes (of her younger days), hair dos of that era, even shoes if possible. Music from her younger days as well as whatever foods she liked the most. Also, maybe some of the younger ones could do do a small performance or dance to her music.
Party favors are plentiful and inexpensive so why not pay a couple of visits to the Dollar Tree and see what they have. Just using her favorite colors may bring a smile.

August 17, 2017
0

found this helpful
I would bring photos, anything that might remind her of her family and life. People with dementia often get afraid if too much different is going on. You can make it festive, but not so much that she gets upset.

haysie
Silver Answer Medal for All Time! 424 Answers
August 17, 2017
0

found this helpful
Have a "Pajama Party" every one have a bed pillow and just sit around and talk about the "good o' days"
Read More

Answers