September 15, 2010
0

found this helpful
From what I have been reading lately, the only sure way is to hire a qualified exterminator. There are a lot of scam exterminators popping up who are after your cash and and use ineffective products.
Also there are a lot of ineffective products being offered that do not work. I would go to Google.com and type in your request to rid the house of bedbugs.

September 26, 2010
0

found this helpful
Instead of wasting money on an exterminator, invest your money in a steam cleaner. There no such thing of a magical chemical that will kill bed bugs in one shot. It takes hard work. Vacuum everyday and try to vacuum when bed bugs are awake, that's any time after 3am. If you have a steamer, steam bed, chair, couch and so on. Don't have a steamer use a steam iron or like some people said a hair dryer. Rubbing alcohol and spray like crazy. Thyme is a repellent to keep them in one area. Ground Silica gel cat litter with blender, processes or coffee grinder and sprinkle that on cracks, between bed, under couch and chairs..etc.
Or even sprinkle carpet at night and vacuum it in morning.
Remember you can test any of these by catching a bed bug put in container(they don't climb) and test silica cat litter, the powder will stick to the bedbugs and will dehydrate them. They will be dead in a couple of hours. Do your research on bed bugs. Bed bugs are bugs not super villains. It will take time and hard work but it's worth it.

May 3, 2011
0

found this helpful
Well, I have been struggling with bed bugs for close to a month, just when I thought I had gotten the upper hand, wham, I wake with bites all over again. It's to the point where I have to circle each bit to keep track if I have more. I have vacuumed, cleaned, laundry, constantly, and now I am doing it all over again. I hear that mineral oil is good to try, but I haven't tried it yet. I have tried baking soda, left that on my couch for 1 week or longer, then I vacuumed the pic-a-dilly out of it. I have tried alcohol rub spraying on anything and everything. I took the week off of work just to get a good week on this situation all of this week.
Along with putting silicone, and mineral oil around the base board of the house, and I also bought expanding foam, to use on the bigger projects. I think I am going to go along the base boards with the mineral oil, and the bedding legs, couch legs. I am at my wits end and willing to try anything.
Now the question is: how often do they lay their eggs? Should I be vacuuming and cleaning vigorously? I am at the point of throwing out my couch. Help, anyone please. I am losing my mind. Do they live in your clothes? I have all material washed and bagged, and 2 pairs of clothes that I wear, and my pj's, and bedding, they all get washed on a daily basis.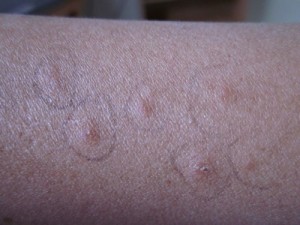 March 19, 2016
0

found this helpful
Yes dear -
apparently they live in your clothes as well as your body. I've been covered with bites this whole past year. I'm no sloppy bum, and had no idea what was making me itch so bad. Over 61, and never had a bug problem. Now, I wouldn't wish this on my worst enemy ! I'm thinking a hot water mixture of baking soda, Tide, and possibly ammonia might do the job in the laundry ( whole medium size box of soda ) and hot dryer. Since I've bagged all my clothes this week, - no bites. A dermotoligist said to use bleach bathes - she was nuts ! you still can't tell the difference between my freckles and bite marks.
OH !! I used ( overdosed ) a product called - Hot Shot Bedbug & Flea bombs in my apt. They are small cans, and I say overdose because the cans say they cover large areas ( my aunt Fanny they do ! ) So I did it again, this time I used 6 cans in my small living room with the inside hall door open. Next day I used 4 cans in my bedroom. each time, I pressed large full plastic bags with laundry up against the door so I didn't breath it in overnight. And so far, I think the devils are dead. I sprayed the small coach with " Hotshot" "flea & bed bug spray" heavy. Then, as I fogged the living room, I took the coach seats and tilted them so the fogger got all sides too. Also dear - take your bedspread off and hang it over your door or shower rod so the fogger kills any chance of the devils too.
As far as the mattress is concerned, yes I sprayed heavy around the sides, BUT ! it's a bit old, so I took extra precautions and went to the material store and got a very large, semi thick felt-like material. Then, got the same amount of " stitch-witchery" and ironed it over the top after spraying. Not only should that kill the bugs, but not let them multiply. OK ? Does that help ? I quit the bleach baths, and am going back to using " Soft Soap" that seems to dry out the itching and rash with a scrub brush - then rinse the brush after you're done.