July 31, 2007
3

found this helpful
Best Answer
It is not hard to make a fitted sheet, I made one for my son's crib, but you will have difficulty finding the fabric large enough for a queen sized bed. Most fabric is 45" wide, home decorator fabric is 54" wide, and a queen size mattress, on top, is 60 inches wide, which means you would need to seam the fabric. About the only fabric you can readily find in fabric stores wider than 54" is muslin used for quilts - and although it is nice for quilts it may not make the softest, or most durable sheet. You might be able to mail order special wide fabric - but I don't know.
That disclaimer aside, what you need to do is measure the height of your mattress. Add 1" to that for your hem. Add that measurement to the length 2X and to the width 2X (so if your mattress is 60 x 80 x 9, you want fabric that is 80 x 100)
After you have your fabric, cut a square out of each corner that is 10" x 10". Stitch those cut edges together to form the corner "pockets".
Fold up a 1" hem all around the sheet. If you zig zag the raw edge, then stitch it down, that works. Or you can fold it over twice to hide the rolled edge. Just be sure you don't take up more than the depth of your mattress, or the sheet will pop off. If you make the hem around 3/4 inch or 1/2 inch, the sheet will come under your mattress a bit in the corners and be really secure - that is up to you.
Using wide elastic - 1/2" or 3/4" - stitch elastic into the corners. How long and how tight is up to you, but about 8 inches on either side of the corner is a good rule of thumb - so 16 inches to sew into - subtract 2 inches from the piece of elastic to make it stretch tight.
That's about it.
If you do find fabric big enough - I highly recommend washing and drying it a few times first, so that it gets any shrinking out of the way before you make the sheet.
Good luck.

August 1, 2007
2

found this helpful
Best Answer
sorry - I just reread these instructions - the corner that you cut out of the fabric should be equal to the height of the mattress plus 1 inch - so for a 9 inch mattress cut 10x10, if your mattress is 13 inches, cut 14x14.

August 2, 2007
2

found this helpful
Best Answer
I make my own Queen size fitted sheets from flat sheets (Queen or King) I usually buy these very cheaply from thrift stores. I lay the sheet over the bed, right side facing up, and mitre the corners to the depth of the mattress using pins. I add a few extra inches to go under the mattress and extra to make a casing for the elastic. Then I remove the sheet from the bed and cut off the excess fabric at the corners, and trim the length evenly.
I sew the corner seams together, and trim them back fairly close to the seam (about 1/4") I then turn the sheet inside out and re-sew the same seams from the other side, thus enclosing the seams, neatening and strengthening them.
For the lower hem I sew a casing, turning the hem back twice. Leave a gap in the stitching to thread through some elastic, and your sheet is finished! Use the same method for any size. (I hope these imstructions are clear enough)
Regards,
Brenda from Australia
By Louise (Guest Post)
June 28, 2008
0

found this helpful
Best Answer
For a queen-sized fitted sheet, try finding a king-sized flat sold separately - you can often find them on sale even in a department store. I used one for the bottom side of a queen-sized duvet cover.
Thanks for the info - I just bought flat sheets for $10 and will be turning them into twin fitted.
By DC (Guest Post)
January 28, 2009
0

found this helpful
Best Answer
One trick I used for the king singles in the kid's rooms was stretch knitted cotton. T-shirt fabric, so they like it, and for some reason its often sold in very wide widths.
Put it on top of the mattress, and cut a peice the size of the mattress + seam allowance. Measure the circumference, and cut a long peice for the sides - and stitch this on. Hem or overlock edges.
Because you have used stretch fabric, there is no need to use elastic, it fits on nicely without. This method allows you to use very long sides, enough to cover the base if there is one, eliminating the need for a valance. I prefer the long sheets, valances get dusty and they are a nuisance to change.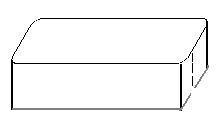 By Jeneen (Guest Post)
July 31, 2007
0

found this helpful
Thank You So Much!!!!

July 15, 2015
0

found this helpful
Hey there
I'm just wondering, how do you work out how much elastic you need? I'm making a Queen sized fitted sheet (fits on a wooden base).
Also, if you're interested, it's winter here (Australia) and I'm a sook, so I'm making my fitted sheet out of Polar Fleece (was $4M cheaper than flanellette), which comes in 150cm wide (59.05inches), which is 3cm short but I figure the fabric stretch will cover that 3cm.
Thank you.
Nina