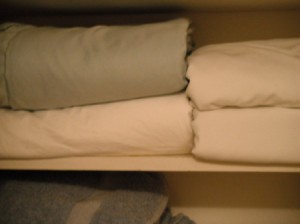 I remember the days when we did not have fitted sheets and if the sheet was not tucked in good, you would wake up and find yourself laying on the mattress.
In those days, when my mom changed the sheets, the top sheet became the bottom sheet and a fresh sheet was placed on top. This saved some washing, I'm sure.
The fitted sheet is a great invention. I don't remember how I learned it, but there is a trick to folding fitted sheets. I would like to share the way I was taught to fold a fitted sheet. It's simple and easy.
After the sheets are folded, I place the set together and put it in the linen closet with the fold side out.