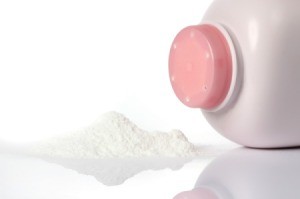 This always works. When you have a grease stain, use baby powder. Put a lot on it and let it sit for a few days. Shake it off and if it still looks greasy, pour more on, and wait. A dog buried his greasy chicken bone in my suitcase on top of a silk blouse. I had to apply several times, but the grease came out.
By judy

Answers:
Use Baby Powder on Grease Stains
I used white chalk on Ugg boots. That's what worked when the toast fell butter side down on my boots. (03/25/2007)

By Rachel
Use Baby Powder on Grease Stains
I had pizza oil stain on Uggs, used baby powder. Everything came right off. Thanks. (10/20/2007)

By Ariel
Use Baby Powder on Oil Stains on Uggs
I am still trying it, but do not know what to do after you put it on. Please help me.

Editor's Note: Rub the powder into the stain, then brush it out with an old toothbrush or suede brush.
(11/11/2007)

By Bob
Use Baby Powder on Grease Stains
This didn't work for me, but holding the Ugg boots over steam and brushing with a suede brush helps to fade the stain. (02/03/2008)

By Emma
Grease Stains on UGGS
I just bought a pair of Uggs last week and got chicken grease on them tonight. I was sick over it. But I looked online and saw a recommendation for cornstarch. I put a small amount on each stain and left it on for about five minutes. Then I took a toothbrush and lightly brushed off the cornstarch. The stains were completely gone. (11/05/2008)
By MKM
water ring
I had a water ring after trying to wash oil out of my Uggs. I did that trick where you rub it with a clean part of the shoe and the ring was gone. Now I'm trying the cornstarch on the original stain. (11/30/2008)

By ali
Use Baby Powder on Grease Stains
If you get water on Uggs use baby powder then put them by the heater. It works. Try this. (12/26/2008)

By DontCallMeDoll
Use Baby Powder on Grease Stains
People, I would strongly caution anyone from using erasers on Uggs. All that does is actually remove the suede fur from the boot. You cannot "erase" oil, the sheepskin absorbs it. You need to use baby powder to absorb the oil and brush it out. (12/27/2008)

By Blade
Use Baby Powder on Grease Stains
I bought these Ugg knockoffs and got french fry grease all over them. I tried the baby powder method found on this site and it worked. I am so glad I don't have to buy new ones. Thanks. (01/27/2009)
By brokemama
Use Baby Powder on Grease Stains
The baby powder does work. I got bearing grease, black, oily, smelly, icky grease on my chestnut Uggs, even on the white sheepswool part. My sister didn't have baby powder, so we had to use medicated foot powder. It only took about 10 minutes. I put the powder on, rubbed it with a paper towel. I repeated several times, each with a clean paper towel. You would never know that I got anything on my boots; the white is still white. I was amazed. (02/02/2009)

By cme