Inexpensive favors for showers and parties can be made by molding your own candies using Wilton candy molds and Candy Melts. These are inexpensive and can be purchased at any store which carries Wilton brand supplies. I have made hearts, wedding bells, Teacups and Easter suckers.
All you need is the Candy Melts, a mold of your choice and a Microwave oven or they can be melted in a double boiler. Melt and fill mold, shaking gently to remove any air bubbles. Immediately put in the freezer for 3-5 minutes to solidify. When you take them out they will pop out when inverted.
For molds with multiple colors, color melted candy, and using a tiny paint brush brush on the added colors and repeat the process to harden newly added color. One batch made 25 Rubber Duck candies for a shower. If you're pressed for time or just don't want to make your own, purchase pastel colored wrapped Kisses and wrap in a tuell circle with a bow and little plastic embellishment. In these I used baby diaper pins and buttons from Dollar Tree craft department.
Another cute idea is to purchase miniature candy bars already wrapped and design an outer wrap which says WELCOME BABY, IT'S A BOY!! or a catchy little phrase, suitable for the occasion.
A last resort idea is to purchase Ring Pop pacifier candy and tie on tuelle and a bow and embellishment. These favor ideas will save a lot of money rather than purchasing individual favors.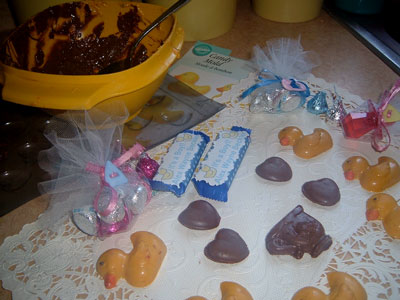 Sharon,Ky