By tessie31 (Guest Post)
February 28, 2007
0

found this helpful
SOUNDS LIKE YOU ARE NOT HITTING A STUD IN YOUR WALL. STUDS ARE USUALLY 16" APART IN WALLS. KNOCK ON WALL LISTEN FOR DIFFERENCE IN SOUND (HOLLOW OR MORE SOLID). IF YOU CAN'T GET A STUD YOU NEED TO USE MOLLY BOLTS FIRST THEN SCREWS GO INSIDE MOLLY. GO TO HARDWARE AND ASK SELLS PERSON. THEY WILL TELL YOU WHAT TYPE OF MOLLY BOLT TO USE AND HOW TO INSTALL.
February 28, 2007
0

found this helpful
I have put so many holes in walls trying to hang shelves I can't even count them. Luckily, they are not difficult to repair. At the hardware store, they have wall patches that look like a wire grid. You can place these on the wall and then spackle over them. To make it look really good, you will need to texturize them (they have a spray paint type stuff that sprays a pattern similar to the original). Don't bother with the stick on textures, they will just peel up in a year or so. Then you can paint. Be sure to let each step dry before moving on to the next. If the hole is really big, you can get a small piece of drywall and make a patch. I'd look for instructions online or check out a home repair book from the library or your local home improvement store.
As for your shelves, do not bother using any type of drywall reinforcements or mollies as your main support. You HAVE to hit the wood studs at the ends and, if possible, in the middle of the shelf. Use wood screws that are long enough to really bite into the wood, maybe 1 1/2 inches. I have drilled holes in the metal shelf support of those "floating" shelves (I got some at Ikea) if the screw holes don't line up correctly with the studs. I use a simple electronic stud finder and mark the spot on each side several times up and down the wall. Then I predrill the hole before trying to put a screw in. If I don't see wood shavings, I know to recheck the stud. Plumbing and wiring can throw off the stud finder but they are typically every 18 inches. If necessary, I will use the highest rated screw type drywall reinforcements between the studs but that is probably not necessary.
As you can see by the photo, I have lots of books and I also have kids so I tend to put everything high up. I find that the bracket that fits into a groove type shelf is versatile and pretty frugal. I would recommend splurging on the double grooved brackets that attach to the shelf for a semi permanent installation. Good luck and feel free to ask specific questions if this isn't clear for some reason.
Jess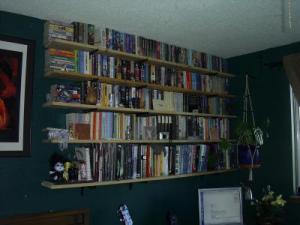 By Marna (Guest Post)
March 1, 2007
0

found this helpful
Ah, the joys of homeownership! First take a deep breath, walk away for a while. Go have a glass of wine. I assume when you say reinforcements, you're referring to the little plastic mollie tubes that go into the hole you've drilled? Those little doohickes supposed to raise your comfort level that you can install shelves without drilling into the stud. Don't do it! You'll get an ugly surprise at some point in the future!
You need to put the screws right into the stud to hold the weight of the shelves. As far as holes go, go get a tub of Spackle and a putty knife to patch the holes. Follow the directions on the package. It's really easy to do. Then you can either touch up the paint after it's dry or if the shelves are going to go over it, it won't show anyway.
Now, go have that glass of wine!
By Karen (Guest Post)
March 1, 2007
0

found this helpful
Hercules hooks are great!
March 1, 2007
0

found this helpful
If you use brackets or shelf braces there are holes in them to screw them into the walls and once they are secure you can place a board on top of the bracket for a simple shelf. I'm sure there are also hardware stores and websites to assist with do it yourself ideas and supplies.
By denise warner (Guest Post)
March 1, 2007
0

found this helpful
first it your not hitting the stud as others pointed out, what are you hitting? are you trying to put these up where there is plumbing pipes or electrical conduit or is there just a sub wall behind the first one.
before you put the shelves up you have to check these things and since you already have holes you might get a flashlight and look inside to see what you are hitting then do what the others told you
March 1, 2007
0

found this helpful
Hi!
To fix the holes in your wall, stuff Newspaper in the holes and then cover the paper with Poly Filla. If Poly Filla is not sold in your neck of the woods, try Plaster of Paris but mix only small amounts and use it quickly as it dries very hard in minutes. Use a small sanding block to smooth the filler. When smooth, cover with ordinary plaster and sand like crazy until smooth. A studfinder is about twenty dollars and it lasts for years. A Red light illuminates when the small hand held plastic box is passed over a wall stud. If you can't find the studs, use small plastic expanders in the drywall and place your screws inside of them.
March 2, 2007
0

found this helpful
sandy63 here. thank you for all your repsponses. i am still not sure what i was hitting. but the space is next to a door. a friend has told me the stud would go about 3 inches away from the door.
so i have abandoned that area and gone on somewhere else. i live in a small condo and have a few areas that no one sees but me. so that is where i have been working.
November 18, 2007
0

found this helpful
Hello :) I just happened to run across your post, I have gone through this before and yes it sounds as every one else has mentioned that you were missing the stud. You can purchase a stud finder pretty much anywhere down a hardware aisle and these are a great big help to have. you can not always determine how far apart the studs are in your home.
We have an older home and I was told several different measurements for the width between them, none of the measurements that were given in advise were correct. So it really depends on when your home was built and how it was built. It is definitely a good idea to have a stud finder unless you know the builder of your home and they can tell you the correct measurement between your homes structured studs. Hope this helps. God Bless.
September 23, 2009
0

found this helpful
Forget about trying to find the studs in the wall. Just go into your local hardware store and buy mollies. They look like long screws with a spring-type wing type attachment screwed onto it. You drill a hole in the sheetrock the size of the mollie bottom (when you bend it), then push the mollie into the sheetrock - as you turn the screw the mollie will move up the screw and grab the sheetrock. And that baby's not going anywhere. I've been putting up shelves like this for years. I have heavy cookbooks on a wooden shelf and I can hang on it and it won't budge.