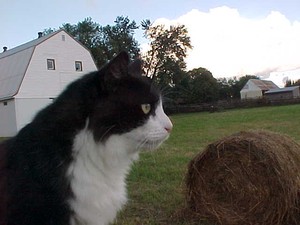 Kitty Boy (Tuxedo Cat)

Kitty Boy is five years old and a Tuxedo Cat, black and white. He came to the door one cold winter day, meowing, meowing and then when he saw us he purred, purred, purred. He has been our joy ever since.

He loves to walk the top of our fence, take walks in the field with our two jack Russells and his Mom. He loves to roll over and have his belly scratched

He loves to play with our dogs, likes to jump and play. He will stand in the tub to be washed like the dogs, one reason he is so beautiful!

By NellieMary from West Virginia

Answers:
Kitty Boy (Tuxedo Cat)
Oh, your kitty boy is so beautiful! We have 2 tuxedo cats and they are such a joy and they both love our dogs to! Glad you found each other and hope you bring lots of love and joy to each other. Blessings (10/27/2008)

By Ida Kennedy
Kitty Boy (Tuxedo Cat)
He's a very pretty cat. (10/27/2008)

By Janet
Kitty Boy (Tuxedo Cat)
oh so pretty! he is gorgeous. I really think
Tuxedo Cats are so pretty and soft. (10/28/2008)

Kitty Boy (Tuxedo Cat)
I have never heard of a cat that likes to be bathed! Are you sure he doesn't think he is a dog, too? Ha! He's a beautiful boy. Thanks for sharing him with us and God bless you. (10/29/2008)
By Pat Giles
Kitty Boy (Tuxedo Cat)
What a handsome boy! Thanks for sharing his photo. If we had a female kitty we would offer our paw. (01/03/2009)

By pjfromky