April 7, 2008
0

found this helpful
Best Answer
Melinda, I would definitely say don't give up - it may take years for the dog to become trusting. My poodle had been abused when I adopted her, and she was terrified of everything, too. It took a long time to get her to trust people, but once she got past her "past", she became quite the dog! Definitely look into getting a crate and putting it in a quiet area where the dog feels secure while you are making noise.
If she knows she has a quiet and safe spot she can go to, it should help a lot. I would also talk to a vet about anti-anxiety medications you could give her during storms, or if you have people over.
By Me (Guest Post)
April 8, 2008
0

found this helpful
Best Answer
I didn't read all of the advice but I'm sure it's excellent. Also consider Rescue Remedy, a holistic calming therapy. I've never had to use it but I've read about many many good experiences. It's harmless & it benefits the dogs greatly. I've had abused dogs & it can take yrs. but like everyone says they eventually come around to be wonderful dogs. There is no time limit because every dog is different. Just be there & let them be themselves & take their own sweet time working through it.
By Tracey (Guest Post)
April 9, 2008
1

found this helpful
Best Answer
I would definitely discuss the situation with your vet. They do sometimes prescribe anti-anxiety meds for dogs, and this would probably help. You also probably have some dog "behaviorists" in Houston, and they deal more with psychological issues. (doggy shrinks)
I give one of my dogs a product from Drs.Foster and Smith catalog (also have a website) called "Ultra Calm Biscuits". It is an herbal blend, shaped like a dog treat. It really takes "the edge off." But my dog is old and just recently suffers from anxiety. Since your dog is so young, you should probably try to treat the source of the behavior first, rather than just medicating the symptoms. Good luck! I am sure it can be helped.

July 2, 2010
1

found this helpful
Best Answer
I heard on NPR, "Calling All Pets" that there is a dog and.or cat pheromone that you plug into your electric socket like a night light. It releases the calming pheromone. (included is a web site info)I would give this a try. "What Good Are Pheromones to Me and My Pet?"
Certain pheromones secreted by dogs, cats and horses are calming. Some of these pheromones are the type secreted by lactating mothers. These pheromones help the babies feel content, secure and safe. In addition, some calming pheromones help animals recognize familiar places. As a group, pheromones that have a calming effect on animals are referred to as "appeasing" pheromones. Scientists have created synthetic versions of these appeasing pheromones for use as treatments to help pets deal with anxiety and fear. The advantages of using pheromones are that they're not sedatives and haven't been found to cause dangerous side effects. Pet guardians don't need a prescription to obtain them for their pets. However, the use of any chemical affecting your pet should be approved by his veterinarian before you use it.
There have been a number of studies evaluating the effectiveness of synthetic pheromones in treating behavior problems in companion animals. The results of these studies indicate that commercially available synthetic pheromones can reduce anxiety in many pets.
Check with your vet or Google it online.
By (Guest Post)
April 8, 2008
0

found this helpful
Hi there, I have had a female basenji for 5 years, but I have not had the trouble that you speak of. My basenji has been a handfull though so I can relate to your problem from that context. The first thing that came to my mind regarding the urination is to look into Fanconi disease, you would need to do a websearch on it to find out more. But the getting scared part almost sounds to me like your dog is high strung like most basenjis. And a good "cure" for that is to make sure that they get at minimum a 30 minute walk everyday. You would be surprised at how much a long walk each day helps a very wide variety of problems that seemingly have no relationship to something as simple as exercise.
The lack of exercise can cause a dog to behave "neurotically". Lastly if you haven't seen the cable tv show The Dog Whisperer, it would be a good idea to watch his shows because he is excellant at helping dogs and their owners with problems similar to yours not to mention a host of other problems. He also has a book out if you can't find the tv show, his name is Cesar Millan. Hope that helps. Cary
By Melinda (Guest Post)
April 10, 2008
0

found this helpful
Thank you to everyone for your advice. I hope i can find something that will help. Thanks :-)

Beth
Silver Feedback Medal for All Time! 407 Feedbacks
April 10, 2008
0

found this helpful
One thing you shouldn't do is coddle her when she is scared. Then you are rewarding the wrong behavior and it is more likely to continue. Good luck!
By Krazytoo (Guest Post)
October 3, 2008
0

found this helpful
I have a 10 year old Basenji who has always been afraid of every little noise as well - especially children. But, just recently, he started acting like he's seeing things and has gone to hiding behind a plant or behind the couch. Stays there all day except to eat and go do his business. Now that I see this, I'm wondering if it's a Basenji thing?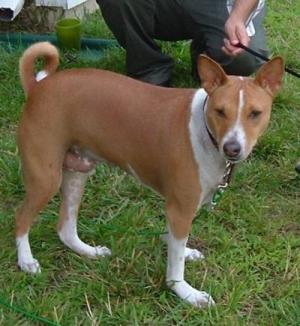 By Billy (Guest Post)
November 9, 2008
0

found this helpful
I'm reading this and I think of my dog Mandy. She is just the same I tried opening a can one time with a manual can opener and she was at my feet. the second she heard the pop she ran away horrified I'm sure she would have gone under the bed if she wasn't afraid of it.. lol. I opened a comic book once and I didn't see her for a few hours until I went and got her from her crate it's like her safe zone or something.
She won't eat regular dog food I have to feed her what I eat or else she runs away I brought home some dry food for her and she started shaking uncontrollably when I poured it into her bowl. She was an abused dog, also.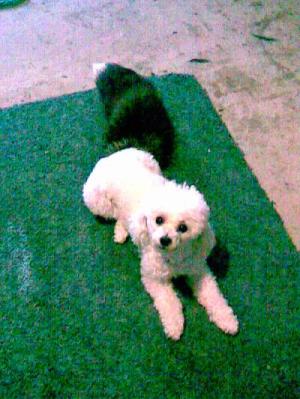 By Hannah (Guest Post)
November 18, 2008
0

found this helpful
I have a 12 week old Australian Shepperd and he is the same way. He just got the courage to smell a tennis ball for the first time today who knows when he will actually play with one. If you walk into the room he runs and hides. Every little thing scares him. Any fast movement or any movement towards her she runs. You have to wait till she comes to you or you cant get near her. She truly is afraid of everything.

October 9, 2016
0

found this helpful
We have an 3 year old mixed beed. She is afraid to go down stairs, new noises and barks at people she has already met. We live in a very rural area, she goes outside alone and can stay out there several hours. I started a fire in the fireplace and she freaked out, shaking and nothing seems to console her.