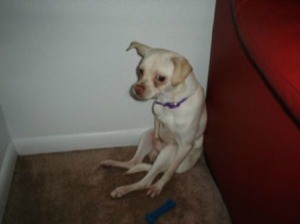 I have a dog that hates going outdoors. I adopted him from the local humane society and I have reasons to believe that he was abused judging by his extremely abnormal behavior. Taking my dog outdoors is like a punishment to him, and whenever I get the leash he runs and hides (under the bed, under the couch). My dog is assumed to be somewhere around 8 or 9 months old. He is a mixed Chihuahua likely with a terrier (maybe a Jack Russell). I've tried a lot of different things. I've tried giving him treats outside (he won't take them), toys outside (he still barely plays as-is). I tried putting him on a schedule, after meals, in the morning, at night, before I leave, when I get home, I take him outside.

He wakes up in the middle of the night to go to the bathroom... on my bedroom floor.
I take him out after every time he does it inside, I don't yell at him because I know that that will promote him to not do his business in front of me.
Also, he will typically poop outside, but never urinate.
Jillian from Springfield, MO
Answers
September 26, 2007
0

found this helpful
Best Answer
Poor little thing looks so sad.
I have a Chihuahua also, 16 years old. They are not usually timid animals as they think they are big dogs.
Mine loves to go outside but I do keep potty pads down for her to use. I think they have to go more often than the bigger breeds. She will jump down and use the potty pads during the night.
Good luck.
September 26, 2007
0

found this helpful
Best Answer
Hi Gillian,
The little guy is precious and you are an angel for giving him a loving home.
Does he like to go for walks? My two rescue Doberkids (who are indoor dogs) are afraid of rain, so merely letting them out back for potty breaks won't always work. If I get the leashes out they get all excited and out the front door we go. They will do their business and seem to forget that its raining.
lol
Meanwhile, like the first response stated you might want to get potty pads for the middle of the night or until he understands the routine.
He could have a fear of the outdoors for a good reason, you might want to check with the humane society and your vet to see if they have any suggestions as to how to housebreak him.
God Bless and good luck.
Jennifer
Northern Virginia
Answer

this Question

...
I have a 6 year old, 150 lb. Rottweiler/Shepherd mix. Recently he has started fighting me to go outside after dark. I have to literally carry him up the stairs and shove him outside. He's too heavy for that. Nothing has changed and I do not know why all of a sudden he has started doing this. I have had him for 3 years. What do I do?
By Ilea Nichols from Detroit, MI
Answers
August 31, 2009
0

found this helpful
Best Answer
My 4 year old Doberman started doing the same thing, being afraid of the outside dark a few weeks ago. We had to literally carry her down the stairs to get her outside and then she'd be all shaky and freaked out. This went on for a few weeks and then we found a dead opossum in our back yard (eaten by an owl) and after that she was fine going out again in the dark.
Our only guess was she got spooked by the opossum and once it died, she was fine. I know I've been approached by them (shiver) and they aren't friendly at all. (again ick!)
Good luck with your pup.
September 1, 2009
0

found this helpful
Best Answer
Try going outside with him before dark and spending some time with him. Dogs are pack animals and like to be with other members of the pack. You are a member of the pack. My dogs like being groomed and fussed over a little before bedtime. Having two dogs also helps.
September 1, 2009
0

found this helpful
Best Answer
Also, not to be a doom-sayer, but please have his eyes checked. I speak from experience.
My eight year old Pomeranian, always brave and fearless, started fighting me on going out at night. Every night for three/four weeks was a trial and a fight. I could not understand why she was so reluctant suddenly. Well, finally it stopped, and she started going out again, but at a vet visit I had the surprise of my life when I learned she was totally blind.
The vet said that she was probably going blind during the time going outside at night started bothering her, and that she had fought going out then because everything was scary and dark looking to her, but once she was totally blind, it no longer scared her. I found out she went blind from diabetes too. Another blow.
They can live quite happily, blind, but you never want them to suffer, so better safe than sorry.
September 2, 2009
0

found this helpful
Best Answer
I have a dog that won't go out unless I go with her, so that solved the problem. I just go with her. Maybe that will solve your problem.
Answer

this Question

...
My almost 5 month old Pit Bull girl, rarely ever goes to the bathroom outside. Now, she pees and poops on paper in the kitchen. Now that she is crated she is making a mess in her crate pooping all over. I don't know what to do. No matter what I do she doesn't got to the bathroom outside. Whenever she hears noises she gets scared. Please can someone help me?
Tara from NY
Answers
By Judy Two Dogs (Guest Post)
November 16, 2006
0

found this helpful
Best Answer
Take her out on a leash with kind words. She is probably afraid to be away from her "Momma". Also, if you crate train her, she will stop "going" in her crate because it's her den.
By Diane (Guest Post)
November 17, 2006
0

found this helpful
Best Answer
I had a pup that would be playing outside and all of a sudden, she would run as fast as she could to get into the house to use the paper. I know your situation is a little different but what I did was to move the paper several feet at a time through the kitchen out onto the porch and finally just outside the porch and across the yard to where I wanted her to go. The process took a while but worked like a charm. Once I got the paper where I wanted it, I just left it there. She ALWAYS went to that spot long after the paper was gone. You may want to end your paper right outside the door until she gets used to going outside. Good Luck and don't give up. Your puppy is worth the effort.
November 19, 2006
0

found this helpful
Best Answer
Repeat, repeat, repeat and lots of praise when she goes. When she doesn't say nothing (this is hard) but don't make the time unpleasant for her and she will eventually be the good dog you expect. Love always wins out. Take her outside at regular times during the day and at e same place, be upbeat and happy when she does what is expected.
Answer

this Question

...
I have two Collies from the same litter. I did not pay much attention to the ones I picked out. I just picked them because they looked the cutest to me. One of my dogs happens to be the Alpha male of the litter and the other is not a runt, but was the weakest one. The breeder told me this later.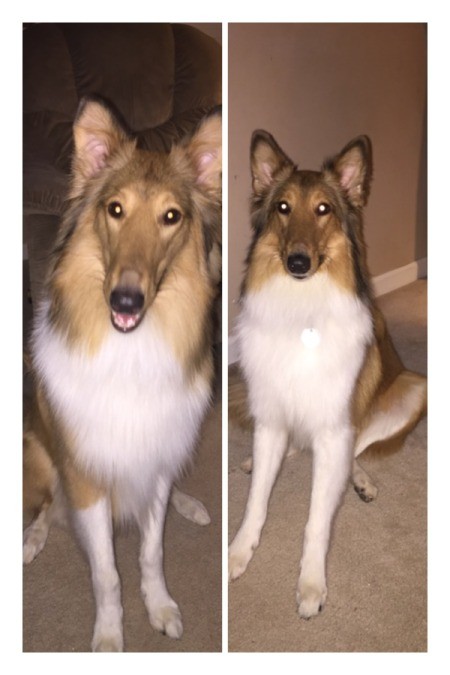 For the first six weeks after being born all the males were in one area and the weakest one was picked on a lot. Now he is very afraid of going outside during the day or walking on a leash.
I am wondering if there is some kind of dog trauma from being picked on and now he lives with the Alpha of the litter. I'm looking for ways to get him not so shy and to walk on a leash. He's just scared of all noises it seems. At night, he goes out very willingly.
Any help is appreciated!
Answers
January 31, 2017
0

found this helpful
There absolutely is. Cesar Millan of Dog WHisperer has much to say about dogs with, essentially, self esteem issues.
One easy fix is to work on his posture. Every time you take him for a walk, you make sure that he is holding his head up high. YOu can tell that he's feeling fearful when his head is hanging low and his tail is between his legs.
Well, you can with the leash gently force his head to be up and with your hand gently force his tail to point upward, and just by changing his physiology, he will begin to feel better about himself (this is true of people too, by the way)
February 5, 2017
0

found this helpful
I would ease him into being g around other dogs. Hopefully you know someone with an easygoing dog and your fearful dog could spend time with this dog. Praise him lavishly and then introduce him to other dogs. You could also look into dog training classes that include this topic.
Answer

this Question

...
I have 4 dogs and all four are all of a sudden afraid to go outside. Usually every morning the first thing I do is get out of bed and let them out to do their business and they would run like heck out to the yard. Now they put on the brakes and stop at the door and refuse to go out. What is wrong with them?
Answers
August 17, 2016
0

found this helpful
Seems like they are afraid of something out there. You may never know what frightened them. I would suggest going out with them for awhile while they regain their courage. Perhaps take the boldest dog out on a leash hoping the others will follow. Good luck.
August 18, 2016
0

found this helpful
I agree, I would take the leader of the dogs and walk them out on a short leash, not a flexi leash. Be confident. The others should follow.
Answer

this Question

...
We have a beautiful dog we rescued about 5 weeks ago. She is one year old and potty-trained, but refuses to go outside. The only thing I can think of is that whoever had her left her outside all day and now she is afraid to go out for fear we would do the same.
We have tried leaving the door open and sit outside with a treat until she comes out. The problem is we live in Colorado and when it gets cold and snowy we won't be able to go out when it's zero degrees and sit, leaving the door open in hopes she comes out. My husband carries her out now, but in the winter that will be impossible. I read all the suggestions, but none fit me. Any ideas?
Answers
June 22, 2016
1

found this helpful
I live in Colorado, too. It's June here and at 8500 feet I'd have about 3 months to solve this problem.
But dogs are fast learners. Once you solve the problem you won't have to sit outside holding a treat.
Once you are able to get her out, walk her. First around the boundaries of the yard (with the leash), then the neighborhood. Do this before she eats and reward her with food and water. The smell of the new place may seem threatening, so let her get used to it. You're assuming the other owners did something to scare her, but it may be simpler than that.
Try spending some time with her in the yard yourself. Certainly there is some yard work or simple repair work that needs to be done. Let the dog hang around and get used to her own yard.
Finally, don't make a big deal out of it. If you're out there calling her, whistling, waving a treat, and so forth, she will feel pressured and this will make it worse. The backyard is just another part of her home. She'll get used to it quicker if you don't make it seem too special.
Answer

this Question

...