I think I have an Africa palm, which I re-potted after 3 or 4 years (about 3 or 4 years ago). I keep it on my front porch where it gets no direct sunlight and in the winter I keep it in a spare shower, also diffused light.
How did it get scale and how do I get rid of the scale? It's on several fronds including new ones, so I don't want to cut them. Someone told me to spray it with Neem Oil which I have in "Garden Safe" fungicide. It says it's safe for house plants, but since I've nursed this huge palm for all these years, I'm afraid it will kill my palm. Do you know what to do? Thanks.
Hardiness Zone: 9b
By Elizabeth Kent from Salinas, CA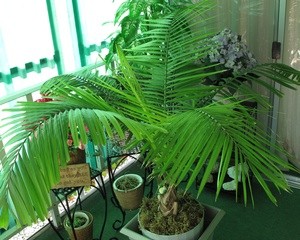 Add your voice! Click below to answer. ThriftyFun is powered by your wisdom!

April 24, 2009
0

found this helpful
Scale can appear for many reasons. You need to get rid of it because the next thing is Sooty Mould will appear and feed on the Scale excretions. Here's an organic recipe for White Oil (It makes a lot!) which will almost immediately smother and kill the scale:
1 cup of vegetable cooking oil (any kind will do)
Quarter cup of washing up liquid. Mix together in a jar and shake well.
Use 2 tablespoons in 2 pints of water, mix well and spray on the scale. (I'm an Aussie and checked the measurements :)
Both the undiluted and diluted mixture will last about 3 months. Maybe share with some friends, as White Oil can be used for lots of things.

April 27, 2009
0

found this helpful
My uncle Is a horticulturist, and he said to use the oil that you have, saturate the plant. It will not kill the plant but if you can he recommends to leave it outside while you are saturating it. Make sure you just spray on the scale only. IT will eventually leave you may have to repeat until it is gone.
He also said that you can rub it off with your fingers but that would be a messy job! Maybe use some rubber gloves, I would just saturate an spray for a while let it do it naturally..
Add your voice! Click below to answer. ThriftyFun is powered by your wisdom!
I have a very large cattail palm in my home. It has scale and I can't seem to get control of it. I have been using warm soapy water and rubbing the leaves and stems once a month to remove the scale but it keeps coming back. I also used rubbing alcohol but turned some of the leaves yellow so I would like another alternative.
Can you help me?
Joan Barber

Answers:
Palm With Scale
I have had scale on plants purchased at nurseries and after doing the same thing you did for months and months and it always came back, so I gave in and just threw the plants out. Scale is very very contagious for your other plants and instead of fighting scale and never winning, I gave up. I figured I could always buy another small version of the same plant and start again. What I ended up doing was buying a different kind of plant for that area to try a new look. What do you think?

There is no immediate remedy for scale. It is a very time consuming insect to keep under control and I have heard of no one who actually got rid of it, rather they just had to keep picking away at it. If your plant is very large you will spend hours and hours at it, examining each leaf. Scale goes into all the cracks and corners and it just isn't worth the time you will spend on it.
Tough decision if that plant means something special to you. Like I said before, there are lots of plants out there to choose from. Throw it out, rearrange your furniture and purchase a new one that is smaller and has no diseases or insects. (10/05/2005)
Palm With Scale
I had the same problem but outside palms. I have both King and Queen palms. I went to ACE hardware. They are our local gardening store (small town). They sold me an anti fungal spray. I'm sorry I don't have the exact name of the product. I sprayed it on in the morning before the sun was on it. Very important to avoid direct sunlight. I had to apply several applications but it did work well. So before you pitch your palm, check out some anti fungal sprays at your gardening store.
(10/11/2005)
By Jennifer,CA
Palm With Scale
I use a product called Bioganic, it is all natural. What it is are a variety of oils that will suffocate the scale. Once the scale is dead, you will need to scrape them off. They will not fall off. You will need to take it outside because it is a strong smell, and the entire plant will need to be sprayed (10/17/2005)

By Elena