May 5, 2009
0

found this helpful
I guess it depends on what you like. The coolest one I saw was last year on a redecorating program on HGTV. The backsplash was made out of aluminum or tin flashing, which is used on roofs to prevent leaks under shingles. I don't recall the exact metal, but it was silver/chrome colored. They prepared the edges by cutting to fit, smoothing away burs to prevent cuts, and nailing onto the backing wall with nails that had rounded heads the same color as the metal. I don't know how long it would last, or how easy to clean, but it looked wonderful over the dark granite countertop.
May 9, 2009
0

found this helpful
The place where I live has a wonderful backsplash, that is squared at the top. This gives you a ledge to put small things on, if you like that option.
I have seen people use old saucers, old photo frames with pressed flowers in them, copper plating from old style ceilings and more. Good luck!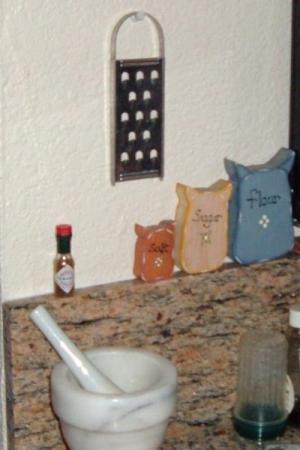 May 9, 2009
0

found this helpful
If you can afford it, ceramic tile would be wonderful. All white tile with a splash of color is always nice in a kitchen. A touch of red, possibly tile's that have red peppers with green leaves on them would go nicely for a border or a splash of color here and there. There are many spices, fruits or veggie tiles available that would look terrific in a kitchen.
I like the idea of mostly white as it doesn't show the dirt, making it an excellent choice. Thanx! I just had so much fun allowing my imagination work over-time, without even spending a dime of my own. Now that's ThriftyFun! Cheers to your new kitchen, I wish I had one, but that's ok, as you can't always get what you want!
May 9, 2009
0

found this helpful
Tumbled tiles look great with granite. OR
My neighbor just put in a granite counter top and the back splash was made of small stones. (It is sold in sheets like any small tile.) It was beautiful and unique.