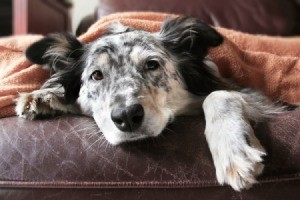 When your dog is vomiting it can be very scary. Once you've eliminated any serious issues such as bloat or poison contact, the best way to get the problem under control is Stop - Slow - Bland.
Stop all food and water for at least 6 hours. Slowly begin with crushed ice chips or a small amount of salt-free broth. If that is held down after 3 hours, repeat. After 3 more hours, give a very small amount of boiled chicken. Repeat 3 hours later. If the problem is still gone, slowly start back on regular diet, giving 3-4 small meals per day instead of 1 large one for at least 2 days. If vomiting is accompanied by lethargy, fever, shaking, or obvious signs of discomfort see your vet immediately!
Source: Lebanon Animal Hospital gave us this advice for our dog, Rogue (in pet contest!) and the STOP SLOW BLAND method got her back on track in 2 days.
By Carol from Lebanon, TN
Comments
Read More

Comments