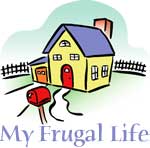 We bought a house in KY from my oldest son who had remodeled it and painted all the walls white. That was bugging me, so one day I got this wild urge to paint the living room.
Since we lived out in the country and I really didn't have money to buy paint or the time to go get it, I knew if I went to town to buy paint I'd lose that urge to paint the living room. I'd learned long time ago to follow those urges. My husband was on the road, so there was nothing to waylay me.
I knew my son had left about a gallon of semi-gloss white in the pantry for touch ups. So I got that paint out, went into my studio for any brown acrylic paint I might have. I kept adding any bottle (2 oz.) of any shade of brown and kept stirring to see how it looked. I kept adding bottles of acrylic paint (ended up using about 13 partial and full bottles) until I got the nice tan shade I wanted and a full gallon of paint.
Next, I had to figure out what I was going to paint with. All the painting materials were out in the garage, who knew where. Didn't want to waste time hunting for them so got out one of those flat painting gadgets for painting corners and around windows. I painted my whole living room with that gadget. I used toothpaste to plug lots of holes in the walls.
I started about 11 am and finished about 7 pm. We had a rather large living room with 2 doorways, 4 windows, and furniture to move. I'd have to rest once in awhile, so it maybe took me longer than it might somebody else, but I didn't care.
Now I don't recommend using acrylic paint with semi-gloss, but it served it's purpose to assuage that temporary urge that day. It wasn't a shade that could be duplicated either, but who cared? I loved it and I didn't have to look at white paint in my living room anymore. Mission accomplished.
By Ellen from Loma, CO
Do you have a frugal story to share with the ThriftyFun community? Submit your essay here: http://www.thriftyfun.com/post_myfrugallife.ldml