---
ThriftyFun News
Crafts for Kids and Saving Money on Clothing
Volume Six, Number 27, July 17, 2004
http://www.ThriftyFun.com
---
Hello,
You may have noticed that we didn't publish a newsletter last week. We were on a little vacation and couldn't get internet connectivity. Because of that we have two topics in this issue: Crafts for Kids and Saving Money on Clothing. Be sure to check out the online version of the newsletter if you want to see pictures for the two craft recipes.
If you have a suggestion for a topic for a future TF News you can submit it here: Click Here
Thanks for reading,
Susan
If you are looking for a frugal solution to an everyday problem, submit it here: Click Here
This newsletter contains:
Crafts for Kids:
Plastic Bag Rug
Paper Plate Wind Twirler and/or Snake
Saving Money on Clothing:
Saving Money on Clothing
Second-Hand Clothes, First-Class Style
Cutting Family Clothing Expenses
Recycling Clothing Using Your Sewing Skills
Save Money on Kids Clothing
Saving Money on Pantyhose
Save Money on Clothing
Too Many Clothes? Swap Them!
Budgeting for Baby: Clothing for Baby
Consignment Shopping Pays Off
Search ThriftyFun Using Google: Click Here
---
Tip Contest
---
Submit a thrifty tip or recipe and you could win a prize. Odds of winning are based on the number of entries we receive and you can submit more tips to increase your chances of winning.
Our current prize is: How to Get Out of Debt, Stay Out of Debt & Live Prosperously by Jerrold Mundis
A Simple, Proven, Effective Formula for Freeing Yourself from Debt and Staying That Way.
To enter, visit: http://www.thriftyfun.com/contest.ldml
---
Crafts for Kids
---
Plastic Bag Rug
By Stella Rivet
This rug is pretty is easy, really cool and costs next to nothing to make.
Supplies:
Plastic shopping bags (like the ones you get at the grocery store)
Large garbage bags or sturdy ribbon
Rectangular piece of cardboard a little larger than the size rug you wish to make.
Yard or meter stick
Pencil
Scissors
Directions:
1. The cardboard will be made used to make a loom. The rug will end being about three inches smaller than the piece of cardboard you use. Cut notches along the top and bottom of the cardboard. To create the notches draw a line 1 1/2 inches below the top and bottom edge. Make a mark every 1 1/2 inches along each of the lines you just drew. Cut a notch as wide as your thumb at every mark.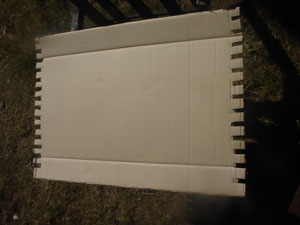 2. Cut large garbage bags in long strips about six inches wide. Tie all the strips together into long piece. I ended up using three garbage bags. You can also use large, sturdy ribbon.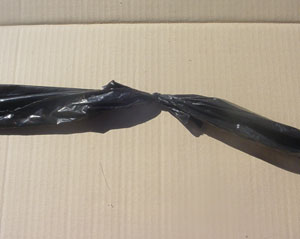 3. Wrap the garbage bag (or ribbon) around the front and back of the cardboard using the notches you cut into the cardboard to hold the bag in place. Then tie the ends together on the back diagonally. Your loom is now ready for weaving.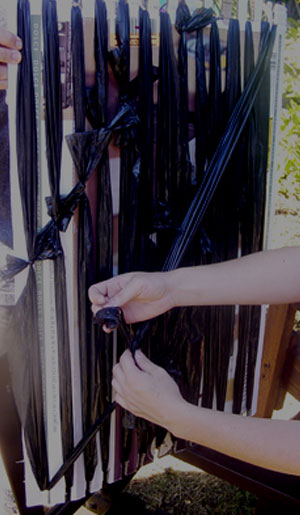 4. Cut the handles and down the side of shopping bags to flatten them out. The bigger the rug you make the more shopping bags you will need so make sure you have a lot handy in each color that you want to use on your rug. Different stores may have different colored shopping bags. For example, the blue bags in my rug are from Wal-Mart.
5. To get started, tie 3 bags together.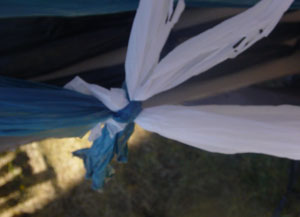 6. To start weaving, tie one end of the shopping bags to the top corner of the loom (don't tie it to the cardboard, tie it to the gargage bag or ribbon), then weave the rest of the shopping bag over and under the garbage bags (or ribbon) strips. Weave each row in an opposite pattern as the previous row. Attach more shopping bags as you go.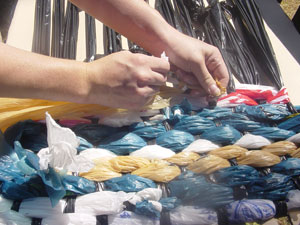 7. When you have finished weaving and have filled up the loom, tie of the end in the corner. Your rug should look something like the picture below.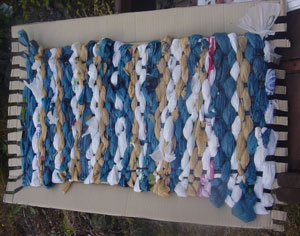 8. To remove the rug from the loom, cut the garbage bag (or ribbon) across the top edge of the loom. It is best to cut them two at a time, then tie them together before cutting anymore.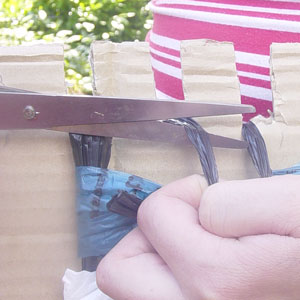 When you are finished, your rug should look something like this!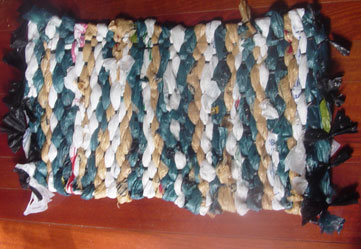 You can reuse the loom for your next rug.
About The Author: Stella is currently a college student who works with children. She contributes craft ideas to ThriftyFun.com. If you have any craft ideas that you would like to share with Stella and ThriftyFun community, please submit them here: Click Here
Post Feedback: Click Here
---
Paper Plate Wind Twirler and/or Snake
By Stella Rivet
This easy craft can be made by children of all ages. Smaller children may need help with the cutting the artwork can be done by anyone!
Supplies:
Paper plate
Markers, colored pencils or crayons
Scissors
String, yarn or ribbon
Stapler
Directions
1. Draw a spiral on your paper plate starting from the edge moving towards the center.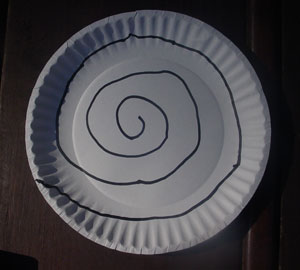 2. Color the paper plate.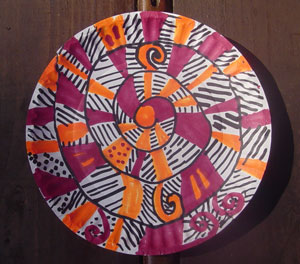 3. Cut the paper plate along the spiral line.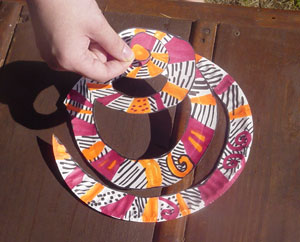 4. Attach the string to the middle of the paper plate with a staple.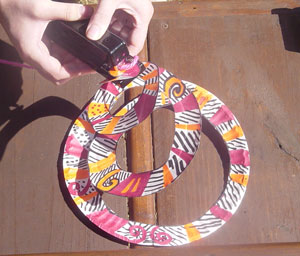 5. Hang it up and enjoy!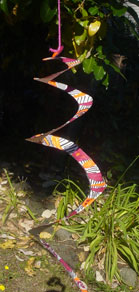 About The Author: Stella is currently a college student who works with children. She contributes craft ideas to ThriftyFun.com. If you have any craft ideas that you would like to share with Stella and ThriftyFun community, please submit them here: Click Here
Post Feedback: Click Here
---
Save Money on Clothing
---
Save Money on Clothing
By Nikki Willhite
Manage your wardrobe -Don't let it manage you.
Fashion may come and go, but the basic rules for saving money on clothing remain the same.
People waste ENORMOUS amounts of money buying clothing that they either never wear, or wear once and then discard for a variety of reasons.
A few well chosen items of clothing are far more useful than a stuffed closet of unworn garments. Most people wear a very small percentage of their clothing 80% of the time.
If you have fewer items, you will take better care of them. Your grooming will improve, as it will be easier to take care of loose buttons and keep your items pressed and clean.
Clothing is discarded because of many reasons, including comfort, color, fit and style,
What a waste. If you want to take control of your wardrobe, here are the rules.
FIRST OF ALL - do not try to keep up with fashion. Trendy items go out of style, and you will soon tire of them. FIND YOUR OWN CLASSIC STYLE, and stick with it.
Once you know your style, it is easy to occasionally check out used clothing sources to see if they have something that meets your needs.
KNOW THE COLORS THAT LOOK GOOD ON YOU.
Now matter how comfortable a garment, or how well it fits, if a color looks bad on you, you will never wear it. The only exception to this rule is a pair of pants or a skirt, which is away from your face.
If you are having a hard time determining your colors, leave your money at home, take a friend, and go to the mall and try on clothing in a variety of colors.
Do you look better in primary colors, such as pure reds and blues, or muted tones, such as olive green? Do you need light colors near your face? Do you look better in colors with a yellow base, such as peach as opposed to pink, or do you look better in slate blue as opposed to aqua?
RECOGNIZE QUALITY.
Visit a high end clothing store to study the construction of quality garments. Look inside at the seams, and at the construction details. Then check out the clothing at a discount store and compare. Know what you are buying.
WEAR SEPARATES.
You can get by with a very limited wardrobe if you make use of blouses, skirts, vests, sweaters, pants and blazers, which can all be mixed and matched.
AVOID SEASONAL CLOTHING.
Wool and seersucker can only be worn in a limited time frame. Get more use out of your wardrobe by buying clothing that can be worn year round, such as garments constructed from a medium weight cotton,
BUY YOUR BASICS IN CLASSIC COLORS.
Choose a color for your basic pieces, such as skirts, jackets and pants. Pick 2 colors, one for winter, and one for the warmer weather.
Basics are colors like black, burgundy, tan, grey and white. These are colors that blend with many other colors.
All of your sweaters, blouses and vests should mix with your basics. If you keep your basics neutral, you can be more colorful with the rest of the items in your wardrobe.
SPEND MONEY TO BUY QUALITY BASICS.
The foundation of your wardrobe, your basic pieces, should have classic lines so they will last a long time. Then, if you want to be more trendy, you can do it with a blouse or sweater that will not cost as much money, or last as long.
NEVER BUY ANYTHING THAT IS UNCOMFORTABLE.
No matter how nice a garment looks on you, if it is uncomfortable, you will not wear it for long. In addition to tight clothing, wool can be scratchy, turtlenecks can choke you, and buttons that come undone are an embarrassing nuisance.
DO NOT BUY ITEMS THAT NEED DRY CLEANING - you will be paying for the item over and over.
SPEND THE LARGEST AMOUNT OF YOUR CLOTHING BUDET ON THE CLOTHES YOU WEAR THE MOST.
The more times you wear an item, the more economical it becomes. Do not fill your closet up with clothes you only wear occasionally. Let the balance of your wardrobe be the clothes you wear every day.
You may be attracted to beautiful silk blouses, but if you spend your days running errands, or working at home, you are wasting your money buying unnecessary clothing.
RESIST IMPULSE SPENDING.
Curb future impulse shopping on clothing by weeding your closet of the clothing you do not wear. Go through your closet, and remove everything that you haven't worn in the last 8 months. Put it in a heap in the middle of your room.
Do a mental calculation of how much money it cost to buy all the items you are not using. Next time you are tempted to buy an item, just to have something new, or for some other emotional need, remember the heap of clothing on the floor and picture this item there also.
Donate your unused items to charity, and promise yourself that you will avoid waste in the future.
Having less is having more when it comes to a good wardrobe. Manage your wardrobe, don't let it manage you. More clothing means more laundry, more maintenance, more accessories, and more items that you decide you don't like .
When you have a lot of clothes, you will not wear them all. Why should you? You are not going to like them all equally. You will still reach for your favorite outfits most of the time, and the others will stay on their hangers until you get rid of them.
Scale down, and save!
About The Author: Nikki Willhite, mother of three, and an Interior Design Graduate, is the editor of The Pennypincher E-zine and Tightwad Tidbits Daily. Visit her at http://www.allthingsfrugal.com for more articles on saving money on clothing and other items.
Post Feedback: Click Here
---
Save Money on Clothing
---
More clothing articles from our archive.
---
Second-Hand Clothes, First-Class Style
By Rachel Paxton
Consignment shopping can be fun as well as rewarding.  I was first introduced to consignment shopping when I was pregnant with my daughter, about 12 years ago.  The trend of buying second-hand items was just beginning.  I started shopping at a store that consigns women's and children's clothes, toys, and baby furniture.  At first I just bought some baby clothes there and marveled at how inexpensive they were (1/3 or less of retail prices).  As my daughter got older I didn't have any little girls to give her clothes to, so I started consigning her clothes.  The consignment store decided how much the clothes should sell for, and after the clothes had sold, they gave me 30 to 50% of the purchase price.  For just a few items that might only add up to a couple of dollars, but if you make a practice of taking in all of your children's outgrown clothes, it can add up quickly.   Where I shop, they will either give you the cash when the item sells, or they will hold your money "on account" so that when you buy something there in the future, your purchase is subtracted from your account. 
Post Feedback: Click Here
---
Cutting Family Clothing Expenses
Buy only because you need the clothing and buy only those items that will fit into your present wardrobe. (If you are choosing between two outfits, buy the one that goes best with shoes you have.)
Post Feedback: Click Here
---
Recycling Clothing Using Your Sewing Skills
If you have sewing skills and have the use of a sewing machine, you can turn little- or never-used textile items into usable additions to your family's wardrobe or home. Some basic sewing skills are needed for repairing, changing or customizing a garment. More advanced skills are needed to remodel a garment or re-cut it for use by another family member. Before you start a recycling project, ask yourself the following questions:
Post Feedback: Click Here
---
Ideas and tips for saving money on kids clothing.
Post Feedback: Click Here
---
Tips for saving money pantyhose.
Post Feedback: Click Here
---
Wear older clothing around the house and save your nice clothing for when you go out. Buy clothes off season when they are on sale or even clearance. And more tips...
Post Feedback: Click Here
---
Too Many Clothes? Swap Them!
By Marcia Passos Duffy
I bumped into a friend at the supermarket the other day. She eyed my sweater a bit too enviously. Love that color, she said. Do you want to get rid of it? We both laughed and I politely told her to take her paws off. It wasnt ready to be swapped not yet.
Post Feedback: Click Here
---
Budgeting for Baby: Clothing for Baby
By Debra Vaughn
Last time we discussed feeding for mom and baby while on a budget. This week, we are going to find out exactly what mom and baby need in the area of clothing and how to dress with a frugal flair.
Post Feedback: Click Here
---
Consignment Shopping Pays Off
By Rachel Paxton
Is your closet full of clothes you never wear? You can bet there are a lot of people who have a closet or dressers full of clothes they never wear. I did too, until I started consignment shopping. A clothing consignment store sells your clothes for you and gives you 30 to 50 percent of the selling price. Pretty good deal, when no one is wearing the clothes that are just collecting dust in your closet.
Post Feedback: Click Here
---
Submit a Reader's Requests
---
To read all the most recent requests, visit our Reader's Request page: Click Here
Need a thrifty solution to an everyday problem, submit your requests at the link below.
http://www.thriftyfun.com/contact.ldml
---
Support ThriftyFun
---
Three ways to support us:
1. Be sure to visit our website and check out our advertisers from time to time. They keep the lights on.
2. Post feedback and send us requests for frugal solutions to everyday problems.
3. Tell a friend about the ThriftyFun News. Click Here
Thanks
Susan