Does anyone have plans to make a dune buggy?

Augustus

Answers:
Dune Buggy Plans
You can find them at www.dunebuggyplans.com (05/12/2007)

By Dan
Dune Buggy Plans Answer
If you need plans for a dune buggy just get an old car chassis preferably rear wheel drive, and weld a roll cage onto it and add the engine on the back. As long as it already has the steering column on. It it is easy to hook up the accelerator and brake just hook it up to the normal attachments. Attach the fuel tank to the front. Run the exhaust out the side behind the back tires.
Thanks (09/18/2007)

By **Superman**
Dune Buggy Plans
Guy's check out dunebuggyplans.com They have plans that are easy to read and to follow. Check them out at:
http://dunebuggyplans.com (12/11/2007)

By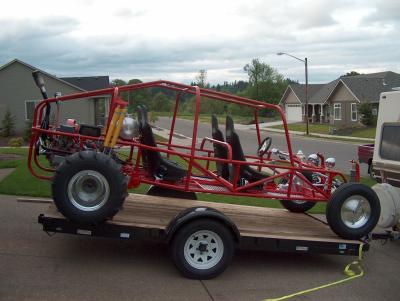 Dune Buggy Plans
I need plans to put a car engine in a homemade dune buggy frame I need plans quick please. Thanks (03/21/2008)
By David
Dune Buggy Plans
Hey I've found a site where a guy is building from scratch, and it looks pretty good too! you could easily put a larger capacity engine in it. So yeah check it out ay, I'm gonna have a go myself. Ben Hervey Bay, Aust. The site is - www.sadik.net/gokart Good work to this Bloke.
(04/02/2008)

By Ben