November 18, 2009
0

found this helpful
Best Answer
I don't make mine in the oven, but here's how I do it. Boil a big pot of water. While the water is heating, crack 6 eggs in a bowl. Add a little salt and a little water and whisk them together. Add about 3 cups of flour or more until the batter clings to a spoon. Using the spoon, drop spoonfulls of batter into the boiling water. After you've dropped them all, stir it and let it boil (you may have to turn down the heat so it doesn't boil over). When they are all floating, they are done. It only takes a few minutes. Then drain and add butter, salt or whatever you want. Hope this helps.

November 14, 2009
0

found this helpful
Put the chicken and sauce in an oven proof pan. Heat the oven(about 350). When the chicken and sauce start to get hot, then drop in the dumplings on top of the sauce. (I use biscuit dough for my dumplings).
It should take about 15 minutes to cook. Dumplings are basically biscuits that you put in a stew, so as long as they cook on top/in the sauce and don't get too crispy, you should do fine! Good luck.

November 16, 2009
1

found this helpful
Heat up a can of peaches and place tiny dumplins in for peaches and dumplins at breakfast or for dessert.
Yes, you can cook them in the oven, however they still need a liquid of some kind to cook in or they won't be a true dumplin, they'll be biscuits.
You can also steam dumplins with a steamer.

November 16, 2009
0

found this helpful
I make blackberry dumplings in the crockpot and also chicken and dumplings on the stovetop. And I use canned biscuits to make both.

(Guest)
Gold Post Medal for All Time! 846 Posts
November 17, 2009
0

found this helpful
You can use an oven safe pot like this with a lid for easy, moist dumplings.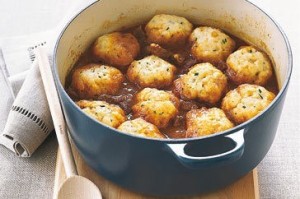 April 20, 2018
0

found this helpful
yes thus is weird but i like my dumplings cooked in the oven. i usually put them in there for about 8-10 minutes each side to be safe if there is chicken in them.

January 16, 2022
1

found this helpful
Hi I like my plain dumplings with no filling baked in the oven. I cook my stew in my slow cooker and then add the dumplings 15/20 on top of stew. But if I want crispy top dumplings I have to transfer the stew into an oven proof dish,which is a pain.
So I was wondering could I put them on an oven proof tray in the oven?? Then add them to the dish when I am serving it.