November 23, 2007
0

found this helpful
Yes , but the dog need s to be trained ,and also you, A dog will not bite and or act out if its trained the right way, and this biteing can be stopped
Hi,
I highly recommend Cesar Millan's methods. He has a show on the National Geographic channel, a new book called "Be a Pack Leader," and assorted training DVDs.
Better yet, find a dog trainer in your area that uses his method and take a group or private class to get you started.
Don't give up yet. The earlier feedback is correct, you both need training. Cesar will help you understand how dogs think and how they relate to you.
Good luck with your pup!

Michawn
Bronze Feedback Medal for All Time! 188 Feedbacks
November 24, 2007
0

found this helpful
Yep, Cesear is the man. I am not a dog person, but if we ever get one, I am doing whatever he says, he works wonders.

November 24, 2007
0

found this helpful
i would never reccomend these dogs i am opposed for anyone to have the option to have this dog my son was attacked and mauled at age 5 by a pit bull we live in the country on a farm and we were innocently riding our bikes when a group of 4 came after him i hope no mother or person anywhere has to watch in horror and try to fight these dogs off your child i tried in vain to get them to come to me and they wouldnt let go of him he has puntcure wounds on his thighs and i am so thankful thats as bad as the scarring was!!! i stayed on that dog warden night and day to get those dogs put down i am a animal lover but i am sorry no good comes from those dogs!!!!

November 25, 2007
1

found this helpful
yes the only way a dog becomes viscous is how they are raised. if a dog is raised in a good environment then there is a higher possibility for them to be nice and controllable, but if a dog is raised to fight and be mean then that is how they are going to be.
i have 3 pit bulls and none of them are mean because i raised them to be like that. its not just the pit bull breed a chihuahua could be just as viscous as any other breed.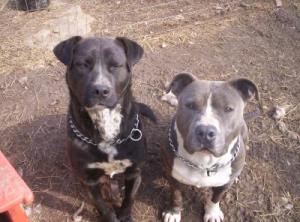 By Jeanine (Guest Post)
November 28, 2007
0

found this helpful
The pit bull and rots and german shepherds have been mislabeled and their image has been smeared by people that do not train and take care of these animals! These are not bad dogs, they are handled and owned by 'bad people' that teach them to harm other people. Take Cesar Milan for instance; his favorite pet is his pit bull. He uses this animal to teach about other animals in his show many times. People have been attacked by all different breeds of dogs, and you don't always hear about them in the media. It seems the media has jumped on the bandwagon when it comes to pit bulls and we always hear about this breed attacking people, when in fact any breed of dog is capable of being vicious.
I own a American Staffordshire Terrier (pit bull) and she has never acted in a way other than too friendly if you want my honest opinion. Complete strangers come to the door and she would rather pee on them in excitement than to bite them! The Little Rascals "Petey" was a pit bull that the movie studio used for little kids. Would they have used that breed or that dog if they thought it would harm those children? As I said at the beginning of my "rant", its all in the owner and how you raise your animal.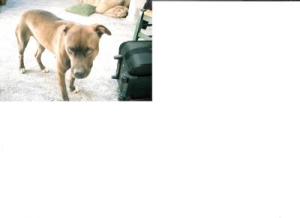 Carrie
Bronze Feedback Medal for All Time! 174 Feedbacks
November 28, 2007
0

found this helpful
Tastes blood? Whatever do you mean?
If a dog has bitten people, he should be evaluated and trained with care. If this dog is dangerous, he should be put down.
If you have to ask here, expecially in such a poetic way, I doubt if you have the mind or will to do it. Have a professional evaluate this dog.
By Cathy from Townsville, QLD (Guest Post)
December 12, 2007
0

found this helpful
No. Definately not. Once a dog has bitten someone, there is a greater chance that it will attack more people in the future. I work with animals and I've seen this problem time and time again. Once a dog is branded 'dangerous', it should be kept away from humans and other pets. There was one here last week where a girl was attacked by a dog that had already attacked three other people in the past, but the owner keeps moving to avoid the authorities. If you want to keep it, then get good insurance and I hope you can live with your concience because it's only a matter of 'when', not 'if' it will attack again.